Demi Lovato Will Address Her Overdose In A New Docuseries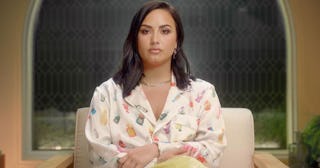 Demi Lovato/Instagram
A four-part docuseries will explore what Demi Lovato says is the "darkest point in my life" — her near-fatal 2018 overdose
There's a lot we don't know about one of the most shocking moments of Demi Lovato's public life: When she suffered a near-fatal overdose in 2018. She's since returned triumphantly to the spotlight, debuting heartbreaking new music about the time period. But now, she's set to publicly address the events of that year for the first time in an upcoming, four-part docuseries called Dancing With the Devil.
According to Rolling Stone, production on the series started in 2018, during Lovato's You Love Me World Tour. A press release promised it would offer "an honest look back at some of the most trying times in Lovato's life as she unearths her prior traumas and discovers the importance of her physical, emotional, and mental health."
Lovato herself made a statement in that press release, and you can already tell what an emotional project this is for her.
"It's been two years since I came face-to-face with the darkest point in my life, and now I'm ready to share my story with the world," she said. "For the first time, you'll be able to see my chronicle of struggle and ongoing healing from my point of view. I'm grateful that I was able to take this journey to face my past head-on and finally share it with the world."
She also shared the news on Instagram, writing, "Thank you to my family, friends, and fans for staying by my side over the years as I learn and grow. I'm so excited to finally share this story with you that I've held on to for the last 2 years."
The director of the series, Michael D. Ratner, had this to add: "Demi's willingness to explore the darkest elements of her life is going to leave the audience with a complete understanding of everything she's been through and ultimately where she is going. Demi stands for empowerment, and this documentary is going to answer the many questions that have been out there — providing a real window into the life of one of the biggest stars in the world, who is simply a human being."
Dancing With the Devil will stream on YouTube, making it Lovato's second documentary project with the site. Her first, Simply Complicated, premiered in 2017. With the release of her new docuseries, this is going to be a big year for the singer — she just released solo music for the first time in 2020 since her 2018 single, "Sober," which told the heartbreaking story of her relapse.
Dancing With the Devil will premiere on March 23, with the release of the first two of four episodes.