Get Organized With These Super Helpful Desk Essentials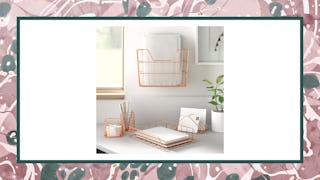 These super helpful organizers will turn your desk into a clean, productive haven
Sometimes, your desk gets a wee bit out of hand. And sometimes, your desk turns into a post-apocalyptic zone that makes you want to cry on the inside. Whether you're a little messy or very, very messy (#TeamVeryVeryMessy), these handy desk organizers have got your back. Productivity, here we come.
This sleek storage rack will store all your books, papers, pencil cups, and miscellaneous odds and ends. It's also an excellent display for your burgeoning succulents.
This cute elephant organizer puts in the work. It's the perfect spot to keep all your pens and also doubles as a cell phone holder. Which means that you will never, ever lose your cell phone under a mess of papers again.
Your desktop computer won't be resting on any ordinary stand. This two-tier riser has adjustable storage compartments to keep all of your various desk items. It'll also set your computer on a higher platform, so no more slouching at your chair while you're working.
Ditto with your post-its. Sometimes all you need is a very cute cat to hold all of your stickie notes and remind you that you really need to make that call, at that time.
Your laptop should get the same solid gold treatment. This stand will support your computer and has plenty of nooks and crannies to keep your desk nice and organized.
Charge all of your devices in one nifty dock station. Goodbye chord tangle, hello organizational bliss.
A pencil cup that also stores your reading glasses? Now THAT'S some good multitasking right there.
Okay, so calendars are great and all, but it's really hard to remember to actually flip those pages (mine is still in May). These cheerfully painted blocks will remind you of the exact date and save you a whole lot of paper.
Sometimes it's impossible to find a stray paperclip anywhere on your desk. This magnetic sheep has got your back.
Literally all of your odds and ends will have their place with this 5 in 1 organizer. Goodbye stray notebooks and pens floating all over your desk. Now, that's some zen magic right there.
Your desk life just got so, so much more organized. Productivity, here we come!
We may earn fees from purchases made via links on this page and affiliated sites. All opinions are our own.
This article was originally published on