These NICU Babies In Handmade Costumes Are Here To Make Your Halloween
by Christina Marfice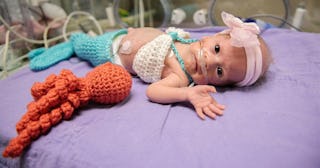 Henry Ford Health System/Facebook
Volunteers knitted costumes to bring some Halloween cheer to a Detroit NICU
While trick-or-treating, devouring candy, and doing the Monster Mash are all hallmarks of a successful Halloween celebration, sometimes you gotta keep things simple and celebrate the season by just looking super cute in an amazing, homemade costume. Take your cue from these Detroit NICU babies, who got all dressed up in costumes handmade by local volunteers for a spooky — and completely adorable — holiday photo shoot.
The photo shoot happened at the Henry Ford Health System in Detroit, where dressing up tiny patients for Halloween is a years-long tradition.
"This has become an annual tradition in the NICU at Henry Ford Hospital in Detroit for the past four years," a hospital representative told Scary Mommy. "The costumes are hand-made by our nurses and some of the patients' mothers."
In the NICU, where no new parent wants their baby to get their start in life — and where nothing about the experience is normal for new moms and dads — the celebration can be a reminder to cherish the light moments in an undeniably dark and scary time.
"Our nurses see this as a light-hearted moment of TLC that tries to normalize the family's experience," the hospital representative continued. "It's a meaningful moment for the families."
Plus, you know, is there anything cuter than tiny newborn babies dressed up in costumes? I think not.
The costumes are clearly made with love, some knitted and some made out of felt and other materials. From sweet, tiny animals, to Ninja Turtles, to ballerinas and mermaids, these kiddos truly brought their adorable style to Halloween.
Just look at this tiny fox tail sticking out of a diaper. Have you ever seen a cuter baby costume in your entire life?
Or this absolutely precious candy corn costume. It may not be the most popular Halloween candy, but I think everyone can agree that the world needs more babies dressed up as candy corn.
Basically, every costume nailed it.
These little ones might be too young to head out trick-or-treating (or even enjoy any candy), but the Halloween spirit is strong anyway. Just look at them.
And while Halloween is definitely the spookiest holiday, there's nothing scary about all these babies — and the fun of dressing up probably made the day a lot less scary for their parents, too.
This isn't the first time someone had the idea to dress up NICU babies for Halloween, and it's a trend we only hope will continue.
Here's to a happy (and not-so-scary) Halloween for all these cuties and their families.
This article was originally published on