You Can Now Send A D*ck Bomb In The Mail Because Life Is Awesome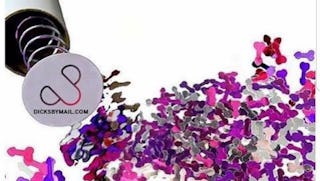 Dicks By Mail
We now live in a time when anything and everything can be delivered to our door:
Don't want to go grocery shopping? There's an app for that.
Don't want to shop for clothes? There are services that will customize outfits based upon your preferences, and send them directly to your doorstep.
Want to send some dicks, or glitter? Or both? Also not a problem.
Thanks to the marvelous company Dicks By Mail, you can now be the spreader of dicks for only $23.99. The Loaded Dick Bomb is the gift that keeps on giving.
This pretty little package, which you can send anonymously in the mail, will toss a bunch of brightly colored dicks all over the damn place. Literally. And it's a genius idea — after all, no one forgets a good dick explosion, am I right?
What a relief there's finally something out there you can send to your friends and enemies alike. You get a dick bomb, and you get a dick bomb, and everyyyybodyyy gets a dick bomb!
Now your holiday and birthday shopping is easy. This is the best gag gift I've ever seen, and it's perfect for so many occasions:
Was your co-worker acting like a big dick yesterday? Then they need to get bombed with dicks right at their desk. A tangible reminder of their shitty behavior.
Did your mother-in-law insult your cooking again? Yeah, she deserves a dick bomb. Hopefully she opens it in her immaculate car, or at a church function with all her pearl-clutching friends.
Are you pissed because you found out your significant other is a cheating bastard? Then shock the shit out of them by sending them a spring-loaded dick bomb straight to their office. Oh, and for fun, mark it as urgent and make sure it lands in their hot and horny hands during a very important meeting.
Tiny love muscles exploding all over a room is the perfect setting for a bachelorette party. Who doesn't want to be covered in shiny dicks during their last night of freedom? These mini-peckers are sure to stick to any brand of lip gloss for an extra-naughty look. Let the penises rain down. #lastflingbeforethering
Not sure how you feel about penis confetti? There are some other tantalizing choices to choose from such as a bag of gummy dicks. Personally, I would send these to someone you really care about. There's no cleanup, and they leave your mouth bursting with juicy fruit flavors.
How about a koozie which reminds everyone to go eat a bag of dicks? The perfect thing to take to that family party you really don't want to go to because you can't stand to be around anyone there. You don't have to say a word and are sure to never be invited back. Done and done.
So be sure to watch out if you get a mysterious package delivered to your door from an anonymous admirer. You may be the next person to be literally showered with a bunch of dicks.
So, don't be a dick, or you might be shaking and swiping dicks off your body, desk, and car interior for weeks.
Not that I would know, I heard it from a friend.
This article was originally published on