The First Trailer For Disney's 'Cruella' Is Here & Emma Stone Is Perfection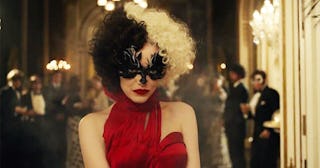 Walt Disney Studios/Youtube
Here's your first look at Emma Stone making the perfect Cruella Deville
There are a lot of reasons to look forward to spring this year. The end of winter and the crazy, terrifying weather that's been happening across the entire United States, obviously. More COVID-19 vaccines distributed and further curbing of the pandemic, of course. And a new movie from Disney that we honestly cannot wait to see: Cruella.
We've been excited for weeks, especially since Disney has been dropping teasers, like this photo of the incredible Emma Stone done up as the famous 101 Dalmatians villain.
But now, finally, the first trailer is here, which means we can get a taste of how Stone is absolutely going to own this role, bringing Cruella to life in an incredible way.
The trailer reveals that this story is going to start before she became Cruella. In the first scenes, she's just an ordinary looking girl with fiery red hair. She explains in a voiceover, however, "From the very beginning, I realized that I saw the world differently than everyone else. That didn't sit well with some people, but I wasn't for everyone. I guess they were always scared that I'd be a psycho."
So while Cruella may not always have been in the business of stealing puppies to turn them into fur coats, apparently, the tendencies were always present.
The trailer goes on to show Cruella attending some sort of ball, where she sets her cloak on fire to reveal a red dress and her signature black-and-white hair underneath, and it might be one of the most dramatic reveals ever to happen in a Disney movie — fitting for the woman who might be Disney's most dramatic villainess.
There are also dalmatians, of course, and they are not fans of Cruella. Dogs always know.
And in one incredible scene, which shows Stone as Cruella hunched over the wheel of her car and driving like a crazy person, you'll get immediate flashbacks to the old 101 Dalmatians cartoon. It's clear that Stone is going to nail this role.
Ultimately, the trailer doesn't reveal much about how Cruella came to be, but it does end with an ominous shot of London on fire, and we have a hunch about who might have been involved. Guess we'll have to watch the movie to learn more, and you bet we'll be first in line to do just that. Cruella lands on Disney Plus on May 21.
This article was originally published on