Disney's New Millennial Pink Milkshake Has Cotton Candy And Marshmallows And WANT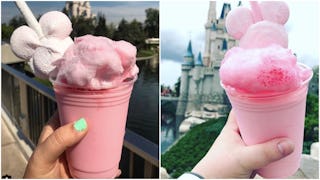 Images via Instagram/brittanyaracca/heihei_its_lex
The Millennial Pink Milkshake is even topped with edible glitter
If you think you couldn't possibly love Walt Disney any more, hang on to your mouse ears folks, because the resort and theme park just revealed their newest concoction and it looks fabulous. Oh, and did we mention it's millennial pink?
SQUEAL.
RELATED: Best Cotton Candy Machines For Kids Who Love Sugar (AKA All Kids)
If you're going to visit Disney, why wouldn't you partake in their variety of mouse-ear shaped confections? After all, you're going to be standing in line for hours in the hot sun with over-sugared kids in the hellscape that is any theme park, why not treat yo self? Besides, their new Millennial Pink Milkshake looks completely irresistible.
This strawberry milkshake topped with millennial pink cotton candy and homemade Mickey-shaped marshmallow ears looks like the perfect combination of divine intervention with a side of sugar coma. It's available for all Disney goers at Auntie Gravity's Galactic Goodies in the Magic Kingdom for $7, which is a tad expensive, but welcome to a Disney family vacation.
https://www.instagram.com/p/Bi95hKQBDlv/?tagged=millenialpinkmilkshake
The people of Instagram have been flooding the app with delectable photos of the shake, which makes me want to pack up the family immediately and jump on the next flight down. Of course, visiting Florida in the heat of the summer with three kids (one of whom is a moody teen) sounds like hell on Earth, so perhaps they could make an online version available?
The milkshake is one of many Millennial pink goodies making their debut at their theme parks this year. There's the Millennial Pink Pop at the BoardWalk Bakery; the Millennial Pink Raspberry Cream Puff, found at The Market at Ale & Compass and Beach Club Marketplace; The Millennial Pink Celebration Toast at Amorette's Patisserie at Disney Springs; a Fairy Tale Celebration Cuvee topped with millennial pink chocolate ears (of course); and Vivoli il Gelato Millennial Pink Shake also at Disney Springs, ABC News reported.
Listen, anything that looks that good and is topped with a Mickey Mouse ear-shaped marshmallow deserves our money. Of course, any park that would serve wine slushies and a rum-spiked version of a Dole Whip obviously gets us, and the milkshake is further proof.
Keep posting those pictures people, us non-Disney bound folks need to live vicariously through you.
This article was originally published on