Conservatives Are Mad That Disney's Pre-Show Greeting Is Gender Inclusive Now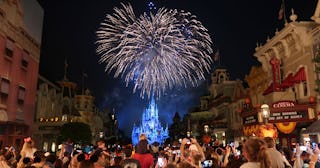 Gary Hershorn/Getty
Walt Disney World changed its firework pre-show greeting to be more gender inclusive
For as long as Disney theme parks have been a thing, Disney park firework shows have opened with a greeting that says "ladies and gentlemen, boys and girls." Well, when fireworks returned to the theme parks this week, fans noticed that the opening greeting changed to be more inclusive of all genders and now the audio recording before the firework show says, "Good evening dreamers of all ages." Nice, right? Well, not for conservative Disney fans, who seem to be making a habit of getting outraged by stuff.
Disney fan account Showcase of Wishes shared audio of the new greeting that plays before Magic Kingdom's "Happily Ever After" firework display. The account that shared the video was seemingly upset by it, tweeting out, "Ladies and Gentlemen, boys and girls FOREVER," and alright, everyone just settle down now.
Unfortunately, they couldn't be settled, because conservative Disney fans threw a fit over the new pre-show greeting.
According to one person in a Disney Facebook group, the fans were "losing their minds" over the greeting change.
"Seriously? Pirates, Splash Mountain, Jungle Cruise, now this too?" said one fan, who apparently likes racially insensitive and sexist theme park rides. "I just wish the pendulum would hurry up and swing the other way…I'm so tired of this extremist way of thinking and being overly sensitive to everything!
Some of the angry Disney fans, to be honest, I'm not even sure if they know what they're upset about. Like this person, who thinks that if you don't say "ladies and gentlemen" you automatically mean, "perverts and molesters?" Huh?
Imagine getting mad at inclusivity? "How dare you not say 'boys and girls!' How dare they?! I wanna hear the words I've heard them say before!"
Fortunately, not everyone was up in arms about it and some nonbinary Disney fans tweeted out how special it was to hear such an inclusive phrase.
A couple of months ago, chairman of Disney parks, experiences, and products Josh D'Amaro, said in a statement that the company is committed to "cultivating an environment where all people feel welcomed and appreciated…We want our guests to see their own backgrounds and traditions reflected in the stories, experiences and products they encounter in their interactions with Disney."
Looks like Disney is practicing what they preach. This new inclusive greeting is one way to show guests of all genders that they are welcome. Plus, the park recently updated the Jungle Cruise ride to remove "negative depictions of Native people," and they're currently working on transforming Splash Mountain, which is based on a racist movie, to be modeled after The Princess and the Frog.
Disney is doing the right thing. These haters can find another theme park to complain about.