Disney's Live Action 'Lady And The Tramp' Will Star Real Shelter Dogs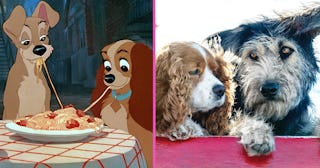 Walt Disney Studios
Disney found the perfect stars for its Lady and the Tramp remake: Shelter dogs!
Disney is really on a roll with its live-action remakes of the animated classics of our youth. The Lion King was absolutely, stunningly beautiful. Aladdin got a modern update that made Jasmine more of a badass than she's ever been. So what's next? Lady and the Tramp, and we already can tell this one is going to be a winner, too.
The biggest reason we can't wait for this particular remake? Disney cast a bunch of adorable shelter dogs in the movie, giving them their big break and helping them find their forever homes in the process.
Of the rescue pups who were cast, one came from HALO Animal Rescue in Phoenix, Arizona, and they tweeted out photos of the movie's two title characters, including their own former pupper. Tramp, the scrappy stray dog who falls in love with beautiful Lady in the movie, will be played by Monte, a rescue terrier mix who was chosen by the folks at Disney for his soulful eyes and mellow temperament. After getting trained up and shooting all his scenes, Monte was adopted by one of the movie's dog trainers. It's a truly happy ending for a shelter pup who undoubtedly deserves it.
The movie will feature live-action dogs who are all voiced by real celebrities. Monte/Tramp will get his voice from Justin Theroux, who's joined by a truly star-studded cast that includes Tessa Thompson as Lady, and Sam Elliot, Janelle Monae, Ashley Jensen, and Benedict Wong as some of the other cast of dogs in the classic Disney story.
To make this story even sweeter, Disney has confirmed that every rescue dog that had a role in Lady and the Tramp found a forever home once production wrapped up. All we can say is congrats to all these pups and their lucky new owners, and we're not crying, you're crying!
We can't wait to see all the doggos onscreen when Lady and the Tramp premieres. It's a little different from past Disney live-action remakes. Lady and the Tramp won't have a theatrical release, but will premiere exclusively on Disney+, Disney's exclusive new streaming platform, when it goes online in November. We already knew we were gonna need a Disney+ membership, but this is just one more good reason to sign up. Lady and the Tramp is one of the most highly anticipated releases that will be exclusively available to stream, alongside a new Star Wars series, High School Musical: The Series, and some Disney classics like DuckTales and That's So Raven.
This article was originally published on