Disney+ Has GroupWatch And It's The Perfect Way To Connect With Family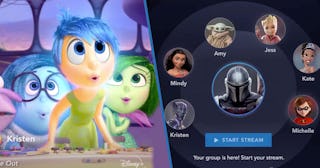 Disney+/Twitter
Disney+ has launched GroupWatch, a feature allowing multiple people to simultaneously streams movies and shows
Due to the COVID-19 pandemic, getting a group of friends or family together to watch your favorite shows together in a group setting isn't exactly safe. However, that doesn't mean you have to cancel your watch parties and miss out on an opportunity to stream movies and television shows in unison. Over the last several months streaming services have been rolling out group watch platforms, including Netflix Party and Amazon Prime Video Watch Party. And now Disney+ is offering their own similar feature and they have dubbed it GroupWatch.
RELATED: 80 Disney Trivia Questions For Your Long Drive To Orlando
GroupWatch, launched on Tuesday, is "a feature that lets you watch any title on Disney+ with your personal friends and family virtually through the app," the brand explains. "GroupWatch will sync your streams so that you can easily watch together, even when you're apart."
Including yourself, a maximum of seven people can sync up their screens — whether via their computer, mobile device, connected TVs and smart TVs — and not only watch shows, but also share emoji reactions in real time. And, you don't need a special app to take advantage of the watch party. Unlike some of the other group watching programs, you cannot chat with your buddies. However, Disney Plus may roll out that feature in the future, according to Jerrell B. Jimerson, senior vice president of product management for Disney Plus.
"In this time when it's hard to hang out with friends irrespective of what your age is, it's a great way to connect and reconnect with friends and family," Jimerson told CNET.
Here's how to use GroupWatch:
First, open up the Disney Plus app or website, login, and then click on the title you want to watch. On the far right of the Play icon, there is an additional icon with three people you need to click.
A link will open up, giving you an option to invite other people (up to six) to watch the show with you. Then, you send the link to your friends via text, email, or any other option it gives you. Here's the fine print: to be allowed into GroupWatch, everyone needs their own Disney Plus subscription. Once everyone is in the group, anyone can click Start Stream to begin the show. Similarly, anyone can tap pause, fast forward, or rewind. During the show, you have the option of using six different emojis, which will pop up next to your name at the bottom of everyone's screen.
Now, all you need is a bucket of popcorn.
This article was originally published on