Disney Just Released A Video Of EVERYTHING Coming To Disney Plus
by Madison Vanderberg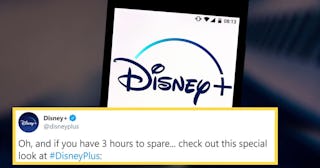 SOPA Images/Getty and Disney +/Twitter
Disney Plus just released the list of everything coming to the platform next month
Do you have three hours to spare? Because Disney just released a list of every title coming to Disney Plus on November 12, and it will take you three hours to digest it all. The list of forthcoming Disney Plus titles is so long that the House of Mouse announced them all in a three-hour video alongside a 300 tweet thread.
RELATED: Best Disney Toys To Keep Kids Living Their Most Magical Lives Right At Home
"It. Is. Time. From Snow White and the Seven Dwarfs to The Mandalorian, check out basically everything coming to #DisneyPlus in the U.S. on November 12," Disney tweeted on October 14, 2019.
If you're a hardcore Disney fanatic with literally three hours of time on your hands, you can check out the video below that details every tv and movie coming to the platform.
The list includes previously mentioned films like the Star Wars spinoff The Mandalorian, the new Lizzie McGuire reboot, the Anna Kendrick Christmas flick Noelle, and the High School Musical television series.
The bulk of the programming is comprised of Disney animated classics and Disney vault films (Peter Pan, Sleeping Beauty, Alice in Wonderland, etc), classic Disney live-action fare (Mary Poppins, The Parent Trap, Sister Act, etc), Disney Channel Original Movies (Halloweentown, Hannah Montana: The Movie, Descendants, etc), Disney TV shows (That's So Raven, Andi Mack, Bizaardvark, etc), and Pixar films (Finding Nemo, Toy Story, Inside Out, etc), plus all the Star Wars films, most Marvel films, and a bunch of National Geographic content.
The list even includes random content you forgot Disney owned like Jonas Brothers: The 3D Concert Experience and all 30 seasons of The Simpsons.
Disney started tweeted out its entire catalog chronologically, starting with the 1937 classic Snow White and ending with the 2019 film The Mandalorian across more than 300 tweets and yet, the brand claims they aren't done listing movie titles yet.
https://twitter.com/jetpack/status/1183759143913447424
We have so much sympathy for the Disney Plus social media editor.
Despite the overwhelming list of content, the naysayers of Twitter were all like, "but you forgot my favorite movie!"
We can't imagine with a list of 300 titles that someone is going to be upset that they can't watch Iron Man 2. **insert eyeroll here**.
The thing about Disney Plus is that the content applies to almost everyone in a household. There's family fare for the whole gang, there's kid-approved tv shows, there are holiday movies, Star Wars joints, superhero sagas. At this point, there's very little content to consume that isn't owned by Disney.
If you don't want to scroll through Twitter forever or watch a three-hour video listing all the films, theverge.com has the entire list of Disney Plus content dropping next month. And as expected, Disney ended its announcement with a reminder that you can pre-order your family's Disney Plus account now, which starts at $6.99 per month.
This article was originally published on