This Company Sells Disney-Themed Bouquets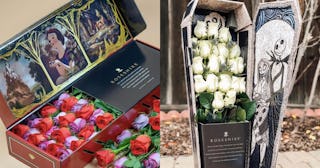 Roseshire/Instagram
Snow White themed flowers? Yes, please.
Listen, a love for Disney knows no age limit. There's a certain nostalgia in watching our favorite shows and movies of Disney past (now available at our fingertips on Disney+ for $6.99/month). And some of us are still excited to experience the magic of a new Disney release on the big screen. What can we say? We like to be happy, and to us, Disney is happiness.
It turns out we're not alone. From wine glasses to TOMS, you can find almost anything Disney-themed if you search hard enough – even flowers. If you have an adult Disney enthusiast in your life, you will never have to question how to honor them on a special occasion ever again. There is a florist who sells seriously creative Disney-themed bouquets, and they are freaking amazing.
Roseshire, a California based luxury online florist, joined forces with Disney to offer the Roseshire x Disney collection. The arrangements, all roses, are inspired by everything from all your favorite Disney princesses to even The Nightmare Before Christmas. Every collection of roses comes packaged in a minimalist-style storyboard design box, featuring the movie of your selection. You can also choose the color of your roses with stem sizes varying in length from 17″- 25″.
For example, here is "Snow White." While red and white roses are the obvious choice to go along with the theme, if they aren't your thing, then choose another color!
Is the special person in your world a little wicked? Then try the "Villain" box, featuring all your favorite bad girls, including Ursula, Maleficent and Cruella de Vil.
Tim Burton fans will obviously appreciate "Nightmare." The exclusive coffin-shaped ensemble holds 20 roses — as well as an exotic thistle that's inspired by Sally and Jack Skellington from a scene in the movie. The company maintains that the collectors piece takes almost an hour to build from scratch.
You can't go wrong with the classics! Every Disney fan will appreciate "Magic Hearts," featuring lovebirds Mickey and Minnie Mouse.
There's also "Cinderella," "Ariel," "Beauty and the Beast," "Wonderland" and "Aladdin." You really can't go wrong with any of them, but obviously, most Disney fans have their preference.
https://www.instagram.com/p/B2WyKw5F_nQ/
Roseshire maintains that their product should be viewed as "an experience, not an arrangement." Each box of roses is hand assembled, from the hand-sealed wax on the recipients card, to every rose being hand-manicured and placed into its own individual water vial.
Each arrangement is shipped overnight to ensure flowers are as fresh as possible, and the arrangements are guaranteed to last for five days. It all sounds too good to be true, right? Well, here's the bad news. We all know that gorgeous flowers are often expensive, and these are no exception. Each box will set you back anywhere from $105-$205 — excluding tax and shipping!
But seriously. For such a unique gift, we say go ahead and splurge! Who wouldn't love to open a box of Disney flowers?
This article was originally published on