Disney's Throwing An Adult Halloween Party With Booze And Free Candy
by Christina Marfice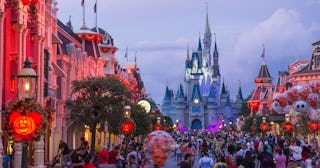 Disney
Disneyland's Halloween party will feature alcoholic drinks, dancing, and of course, trick-or-treating
Why should kids get to have all the fun on Halloween? Sure, knocking on your neighbors' doors and begging them for candy isn't the most grown-up thing you can do, but it's still not fair that it's seen as a kids-only activity.
Until now, thanks to Disneyland. This year, the park is throwing the coolest sounding bash at its California Adventures park that will encourage adult trick-or-treating, dancing, and even drinking, and excuse me, I have something really, really important I have to do right this second (*lines up for tickets*).
So the party isn't strictly adults-only — people of all ages are encouraged to attend. But the Oogie Boogie Bash event definitely has some features that cater to us Disney-loving, childless millennials, and we're very here for it. Truly the most magical place on Earth.
From Sept. 17 through Oct. 31, a part of the California Adventures park will be transformed as The Nightmare Before Christmas spook Oogie Boogie summons all the Disney villains to put on the party of your nightmares. Costumes are encouraged. There's a trick-or-treating path where kids (and grownups!) can fill pillowcases with candy from cauldrons. The new "Villainous!" World of Color show will be exclusive to this event, and there will also be a Descendents-inspired dance club. Ready to throw down on a spooky, Disney Halloween dance floor? Because I was born ready for this.
But here's why this is a party that really caters to the grownups. Cathay Circle, the iconic movie theater and restaurant inside California Adventures, will be completely transformed for this event. The outside of the building will be engulfed by Maleficent's vines, and the inside will be completely transformed into "an immersive haunted experience complete with sounds and illusions." That includes special Halloween food items — and drinks.
In fact, for this event, you won't have to limit your cocktail indulging to just restaurants. Booze will be sold openly throughout the park to help grownups celebrate their Halloween in style, because what's a holiday in the middle of the changing seasons without a little something to warm you up?
Now for the less-great news: This is a seriously limited event. It's only running on Sundays, Tuesdays, and Thursdays from mid-September until Halloween. To go, you'll have to get a special event ticket, which ranges from $110 to $145 depending on the day, and some dates are already sold out, so if you plan to go, you might want to grab those tickets ASAP. We millennials better cut back on our avocado toast so we can fit this into our budgets, amirite?
This article was originally published on