We Should Ditch Baby Showers, And Throw New Moms A Postpartum Party Instead
by Wendy Wisner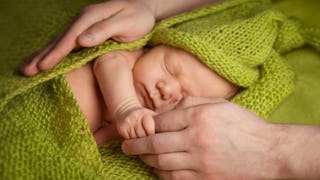 inarik / Getty Images
Like many new moms, I spent a lot of time preparing for my baby's birth. I had a birth plan, took a birth class, and spent countless hours fretting over my baby's big day. And when I wasn't fretting over that, I was working on my baby registry, setting up my home for my baby's arrival, and making sure I had an adequate number of burp cloths and diapers.
My girlfriend threw me a baby shower, which was awesome, and I am forever indebted to her for that. But that, too, focused mostly on the birth, the baby, and making sure I'd have all the material possessions I'd need to be a mom. It didn't touch upon what would prove to be the ultimate shit-show of this whole thing: postpartum.
No one – and I mean no one – prepared me for those grueling few weeks and months (okay, let's be honest, years) of having a new baby. I was so focused on the baby's arrival that I didn't give the idea of actually caring for him a second thought. Motherhood, after all, was the easy part, right? It was supposed to come naturally.
WRONG.
And while I was very grateful to have enough baby outfits to clothe practically the entire neighborhood, what I really needed in those first few weeks after having a baby was support. I needed all those gals who showed up to my baby shower to be there in the afternoon when my baby cried nonstop for four hours. I needed them there when I tried to latch him on in the dark and he turned away from me screaming.
Ever since that experience, I have always felt that we all need to spend a little more time (A LOT, actually) focusing on new moms during those first postpartum weeks. And that's why I was totally in love with an idea I saw in a recent article published by Bust Magazine. Author Marisa Mendez Marthaller came up with a fantastic, totally amazing, and absolutely necessary concept: instead of throwing a mom-to-be a baby shower, throw her a postpartum party.
"What if we took all the energy, time, and money that goes into prenatal fanfare and instead put it toward helping new parents when they need it most: during the emotional and physical recovery of the first six weeks after giving birth?" Mendez Marthaller asks.
HELL YEAH. Is this not the most awesome thing ever? I can't believe I never thought of this myself.
As Mendez Marthaller describes it, this "party" wouldn't look like one organized event, per say. It would be more like having your BFFs, close family members, or anyone would have been invited to your baby shower sign up to help you out during the first six weeks postpartum (or longer). So, that would mean things like sending in meals or organizing a "meal train"; pitching in with housework; coming over to hold the baby while you nap, shower, and eat a meal; or hiring a postpartum doula to help you out.
Mendez Marthaller also suggests helping you set up "visiting hours," perhaps using a Google calendar or something like that. Basically, that means that you get to establish boundaries about who can visit you and when – which is a huge, big deal for new moms who are often overwhelmed by visitors, but too shy or guilt-ridden to turn them away.
If it were my postpartum party, I would add hiring a lactation consultant (not just saying that because I used to be a lactation consultant myself; I desperately needed one after my baby was born, and almost all nursing mamas need a little extra help). Additionally, I would have loved having someone help pick up groceries for me a few times a week, and someone to give a little extra attention to my older son the second time around. A massage and a few gentle postnatal yoga or pilates sessions would have been amazing, too.
The cool thing about this idea is that you can make it be exactly what you want it to be, and can even change it as you see fit – because, let's face it, most of us don't know what all our particular postpartum challenges will be until they actually come up.
It truly takes a village, and sadly many of us lack that after we have a baby. I sure hope the idea of postpartum parties catches on everywhere, because it's exactly what new moms and their babies need and deserve — and something that should be freely offered to them by those they love.
This article was originally published on