Divorce Can Hit You Hard Over The Holidays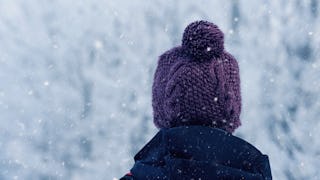 cunfek/GettyImages
A few years ago I sat at our dining rom table watching my kids sled down a hill in our back yard.
Was it 2012? 2013? I don't remember, and it's not that important. What's important is that those memories will always stay with me because I was so full of happiness. I was content. I was hopeful. I've looked back on that day so many times over the years and it always warms me. I feel my smile spread through my insides, and it's a reminder of all the gifts I've been given in my life.
But that memory also haunts me.
We'd had an ice storm and it was freezing, yet stunning. The ice weighed down the big pine trees in the back yard, and the maples trees in the front. The railing on our back deck was covered with hundreds of tiny ice cycles; the crunchy snow sparkled. Sitting in my house that afternoon, listening to my children, and watching our dog chase them down the hill, I was able to let all other thoughts vanish. I was present, lost in them. Maybe that's why it felt so good.
That evening, my then husband, walked in carrying a stack of goodies given to him by a coworker. The kids crowded around and opened boxes that were filled with candy, nuts, and fruit from Harry & David. Life with three kids isn't always idyllic, but that was one of those days you daydream about before you become a parent.
I've been living in that same home without my ex-husband for almost a year now. And this fall, after a shitty year, I finally began to feel like I had made it to the other side, the guilt began to lift a bit. I woke up every morning and felt like I could actually do this thing, and embrace a new chapter. I had fought the good fight with myself and was tired and ready to let go of some of the pain I was hanging onto simply because I felt I needed to be punished for my decision.
Going through a divorce, especially when you have children, makes you question everything. It makes you second guess who you are and what you believe in. It takes you to a dark place that's almost impossible to crawl out of. Then you do crawl out, and you realize you are allowed to move on, to be strong, to be happy. And I was almost there.
I figured the holidays would propel my new found happiness further. I've always loved Christmas with its majestic feel. I thought this year I'd be filled with happiness that would somehow glue me back together, and I'd be over it all because dammit, I want to be over it all.
But I was wrong.
I've been trying to keep up with all the things we used to do, to continue on with old family traditions. But instead of bringing comfort, it feels desperate. Like I am clinging onto something that isn't there any longer.
I bought a fake white tree because I've always wanted one, and the thought of going out to get a tree at a farm like we used to, and setting it up without my ex, made me feel raw.
And when the tree arrived in its box and I saw it on the front porch, I loved it and felt guilty at the same time. Who am I to start new traditions the first year after my divorce?
A few weeks ago, we got our first snow. I drove up the driveway after dropping the kids off at school and looked at my house. I threw the car in park as the memories of the kids sledding, and my ex-husband walking through the door with packages from coworkers, hit me so hard I couldn't breathe. I felt so empty and wanted to fill the void so I went inside and made the kids' favorite cookies and cried the whole time.
You see, I can't win. I'm not letting myself move on and create new traditions without punishment, and when I try and stick to the old ones, it's as though someone has taken sandpaper to my heart. The holidays are making everything hurt so much, and I hate it.
Nothing feels right. I'm happy for a moment, then it disappears and is crowded out by all the mistakes I've made, all the old memories, all the times I was happily married.
You can know something, or someone, isn't right for you and be happy you are starting anew, and still have old feelings come crashing down on you– I just didn't expect it to happen during the holidays. I thought this special time of year would take care of any leftover pangs I had. I was counting on it to get over the angst. I needed it to soothe me and be a distraction. And it's not doing its job.
But maybe that's because I'm just not done healing. Maybe it's because change is hard and pokes at your soul.
This year I have been reminded of all the wonderful gifts I've been given, yes, but it's also made me remember me how I got to this place. In a way, it's made me relive all the feelings and struggles I've had over the past year.
And in order to keep from breaking in two, I've decided just to let this time of year do its thing. I've invited it to let me feel all the feelings, no matter what they are.
Going through the holidays after a divorce has been harder than I thought, and I don't know if it ever gets any easier. When you go through something that changes you forever, you will have reminders creep up for the rest of your life. It's part of the change. It's part of the process. It's part of the healing. And those reminders don't care what time of year it is.
So, I will take the pressure off the holidays and just be.
And I think I will be okay.
It's been really cold here. The other morning I woke up to an ice storm. Our deck looked just as it did that afternoon my kids were sledding, only more beautiful.
My daughter came downstairs this morning and said, "Mom, this is my favorite tree we've ever had."
Little by little, we get through that hard parts of life. The holidays can make those better, and worse. And I've decided to try and stop hanging on so tight and depending on this time of year to fix me.
I don't need fixing. I just need to let the feelings come and go, because it's all I know how to do right now.
This article was originally published on