Paging Creativity! 11 Doctor Coloring Pages To Print Out Stat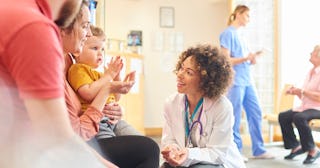 sturti/Getty Images
If you've ever asked your little one what they want to be when they grow up, chances are they might've said, "Doctor!" And, really, can you blame them? Doctors are awesome, and the coronavirus pandemic has proven just how vital and brave these frontline workers are. Doctors make us feel better, and we owe them a huge debt of gratitude for saving lives. So, doctor coloring pages aren't just an enjoyable activity to keep the boredom away — they're also ideal conversation starters to further your discussion on what doctors do.
Another reason to love these doctor coloring pages? They provide interesting facts about these modern-day healers while also doing something creative with colors and crayons. You might find this an especially beneficial activity if your kids are afraid of going to the doctor. By injecting some fun with these free printables, your little one might not be as anxious the next time they have to go to the doctor's office. Regardless, these doctor coloring pages are sure to keep everyone in the family entertained for a few hours.
When your little ones finish coloring these pages, fill their prescription for more fun with other coloring pages that depict other possible future life paths. Our favorites? Musician coloring pages, firefighter coloring pages, farmer coloring pages, astronaut coloring pages, basketball player coloring pages, and princess coloring pages (hey, why not, right?).
Free Printable Doctor Coloring Pages
Doctor Page No. 1
Women make up a little more than one-third of the professionally active physician workforce in the U.S., with the majority of female doctors working in family or child specialties. However, those numbers will surely grow soon, as women make up most students in U.S. medical schools​.
Doctor Page No. 2
Elizabeth Blackwell was the first woman to earn a medical degree in the United States. In 1857, she opened the New York Infirmary for Women and Children along with her sister, Dr. Emily Blackwell, MD, and Marie Zakrzewska, MD. Blackwell was also the first woman to be admitted to the British Medical Register, which allowed her to practice medicine in both the U.K. and the U.S.
Doctor Page No. 3
It's a long road to becoming an MD. Medical students first attend college, where they take classes in biology, chemistry, physics, and other general studies. That's about four years, then they spend another four years in medical school, and have three to eight years of residency (which depends on your specialty!). So in total, it can take around 11 years.
Doctor Page No. 4
After medical school, most graduates enter a residency — a training program usually in a hospital. So, think Grey's Anatomy! Seasoned doctors (like McDreamy) train the new doctors (AKA Meredith Grey) for three to seven years during the residency. At this time, the new doctors can choose to specialize, as Grey did with general surgery.
Doctor Page No. 5
As of 2018, there were over 985,000 practicing physicians in the United States. To celebrate these hardworking doctors, we have National Doctors' Day every year on March 30.
Doctor Page No. 6
Places like Washington D.C., Massachusetts, and Maryland have the highest number of physicians per civilian population. So, if you're thinking of relocating to a city with excellent healthcare professionals, you can start there. You should also add New York City (New York), Chicago (Illinois), Los Angeles (California), and Detroit (Michigan). According to U.S. News & World Report, those cities have the greatest number of top hospitals in the U.S.
Doctor Page No. 7
Here's an intriguing TV doctor fact for you: Apparently, William Shatner turned down the offer to play Dr. Mark Greene on ER, which would have made for a very different TV show. Another mind-blowing casting fact? Back to Grey's Anatomy, Rob Lowe was offered the role of Derek Shepherd but turned it down at the time for a CBS show called Dr. Vegas that didn't pan out.
Doctor Page No. 8
While we're on the subject of famous doctors, there have been many popular docs who have graced the small screen over the years. Some of the most notable include Hawkeye Pierce from M*A*S*H, Leonard "Bones" McCoy from Star Trek, Michaela "Mike" Quinn, from Dr. Quinn, Medicine Woman, and, of course, Dr. Doug Ross (ahem, George Clooney) from ER.
Doctor Page No. 9
The first historically recorded doctor ever was Hippocrates (460 to 370 B.C.E.). Before Hippocrates, doctors were a rare profession and were often referred to as "medicine men." Hippocrates developed his own way of classifying illnesses into four categories: acute, chronic, endemic, and epidemic. As a result, doctors today take the Hippocratic Oath to protect human life. And here's another historical medical tidbit: Did you know the first amputation was performed around 300 B.C.E.? In 1858, archaeologists found a wooden and copper leg in Italy.
Doctor Page No. 10
There are two types of physicians: medical doctors (MDs) and doctors of osteopathic medicine (DOs). While both use similar treatment methods, DOs base a patient's diagnosis and treatment on the idea that the body's systems are interconnected. Instead of treating specific symptoms or illnesses, DOs see and treat the body as an integrated whole. DOs are also most likely to be primary care physicians.
Click here to print all of the doctor coloring pages at once!
This article was originally published on