Doctors Slam NRA For Telling Them To 'Stay In Their Lane' About Gun Violence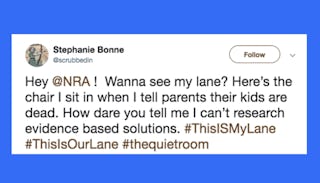 Image via Twitter/Stephanie Bonne
Good luck getting any thinking, feeling medical doctor to agree with the NRA
In the midst of yet another violent month of mass shootings and gun violence, including an attack at a yoga studio in Tallahassee and the loss of eleven lives at a Pittsburg synagogue, The National Rifle Association (NRA) decided it was a good time to tell doctors to "stay in their lane" when it comes to pushing for gun control — and physicians from around the country are having none of it.
The exchange started on Twitter on Wednesday, when the NRA stated, "Someone should tell self-important anti-gun doctors to stay in their lane."
The tweet links to a story on the NRA's website that trashes recent recommendations from the American College of Physicians (ACA), as published in the Annals of Internal Medicine.
The ACA recommends sensible gun control measures, including a ban on semiautomatic weapons and high-capacity magazines, stricter licensing and permitting requirements, and better gun violence reporting. All of their recommendations were based on evidence and peer-reviewed studies.
The response on Twitter was fast and hard, with doctors from across the country and around the world putting the NRA back in its place — and reiterating that America's gun violence is nothing less than a health crisis.
[Content warning: graphic photos below showing trauma related to gun violence.]
If guns are harming people, and if a physician's job is to help people, speaking out about gun violence and working toward gun control is totally their lane.
Some tried to simply point out the science behind gun control and gun violence prevention — by linking to research about how certain gun control measures work.
Others told specific stories about their experiences in the emergency room, losing lives to gun violence or struggling to save lives after bullets rip through their patients.
Images shared by doctors were even more powerful than words. A trauma surgeon at Intermountain Medical Center in Murry, Utah, posted a picture of his blood-soaked scrubs. "This is what it looks like to #stayinmylane."
Of course, just a day after the NRA post, a shooter in Thousand Oaks, California, left 12 people dead and 18 people injured at a country music bar. Each of the victims, we imagine, were rushed to the hospital where trauma doctors and nurses did everything in their power to save lives.
And it looks like they won't stop trying to save lives, through gun control, when they change out of their scrubs and leave the hospital. Because preventing gun injuries and deaths is definitely their lane.