Dolly Parton Marks Her 75th Birthday With A Message Of Love & Hope
by Christina Marfice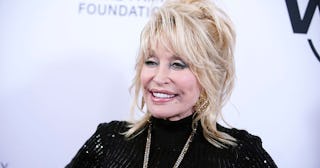 John Lamparski/Getty Images
In case you've ever wondered (because we know you have), here's what Dolly Parton wants for her birthday
Considering how great she's lookin', it's kind of hard to believe that Dolly Parton is 75 years old. Then, you start thinking of all she's accomplished and actually, yeah, that makes sense. The singer celebrated that big milestone birthday on Tuesday, and to mark the occasion, she posted a throwback photo to Instagram along with her biggest wish for her birthday. Honestly, it's so sweet, you might want to just grab a box of tissues before you even read it.
"Thank you for all of the love on my birthday," Parton wrote, followed by her trademark blue butterfly emoji. "This year my wish is a call for kindness."
She continued, "We can't just hope for a brighter day, we have to work for a brighter day. Love too often gets buried in a world of hurt and fear."
That feels like an especially poignant message in today's climate of radicalized and divisive politics. Here's hoping everyone who reads it takes it to heart.
Parton finished her message with a call to action for her followers and fans.
"We have to work to dig it out so we can share it with our family, our friends and our neighbors. So today, January 19th, let's get to unearthing love."
TBH, if Dolly Parton is asking me to do something, I'm going to do it.
Aside from celebrating this major milestone birthday, Parton has had a really big, exciting year. Especially around the holiday season, she seemed to see that we all needed a little light and joy and decide that she would singlehandedly provide it, releasing a holiday bakeware line, her first new Christmas album in 30 years, a holiday sweater collection, and her Netflix movie, Dolly Parton's Christmas on the Square, which was so hilariously insane and fun to watch, you can and should queue it up at any time of the year, not just around the holidays.
On top of all of that, Parton made a major donation to one of the pharmaceutical companies that developed a COVID-19 vaccine that is now being distributed across the country. She's long been a charitable angel, but who could have predicted she'd save the world from a deadly pandemic? That news prompted Barack Obama to say he regrets not giving her the Presidential Medal of Freedom, and, well, we agree. She deserves one, stat. Someone please let Joe Biden know.
Happy birthday, Dolly, and thank you for being such a constant light in this world.