Trump Administration Drops Protections For Asylum-Seeking Domestic Violence Victims
by Thea Glassman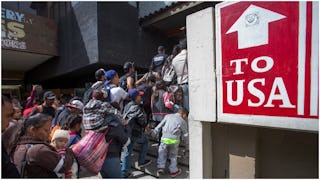 Image via David McNew/Getty
The Trump administration won't grant asylum to domestic violence victims
Just when you thought things couldn't get worse…they got worse. Jeff Sessions announced that the United States will no longer grant asylum to domestic violence victims, which means that abused women won't get the chance to start a better life in a safer country. To add inhumanity on top of inhumanity, the Trump administration is also planning on denying entry to refugees who are escaping gang violence in their home countries.
Sessions made this sweeping decision after overturning the case Matter of A-B-, which granted asylum to a Salvadoran woman who was physically and sexually abused by her husband for more than a decade. The woman — who asked to remain anonymous because she's scared her ex-husband will track her down — told NPR that she was beaten while she was pregnant and had a gun held to her head.
"El Salvador is a small place," she said. "I used to go to the police, but they didn't do anything…there's no protection for women. Anyone who's been there knows this."
Sessions said that her asylum had "been wrongly decided." The attorney general explained that he doesn't believe the United States has to welcome refugees facing life or death situations. If your heart is currently breaking into one million pieces and you want to throw multiples chairs across the room, you are not alone. This is a gut-wrenching and shameful moment for America.
"Generally, claims by aliens pertaining to domestic violence or gang violence perpetrated by non-governmental actors will not qualify for asylum," Sessions said. "The mere fact that a country may have problems effectively policing certain crimes — such as domestic violence or gang violence — or that certain populations are more likely to be victims of crime, cannot itself establish an asylum claim."
This move not only slams the door on would-be asylum seekers, but will also affect many, many female refugees living in the United States right now. The American Immigration Council's Executive Director Beth Werlin called the decision yet another inhumane move against immigrants.
"The Attorney General's decision—if permitted to stand—will no doubt result in sending countless mothers and children back to their abusers and criminal gangs," Werlin said, per TIME. "Turning our backs on victims of violence and deporting them to grave danger should not be the legacy sought by any administration."
As if this isn't bad enough, the Trump administration has also begun the cruel process of separating immigrant children from their parents at the border between the U.S. and Mexico. The New York Times reported that 700 families have been split up between October 2017 to April 20, 2018. One mother named Mirian told the Times that she had her 18-month-old son taken away from her. The two had fled Honduras to get away from the violence.
"I had no idea that I would be separated from my child for seeking help," she said . "I am so anxious to be reunited with him."