'Dragons Love Tacos 2' Is Out, And It's Awesome (Of Course)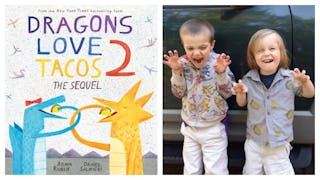 Penguin Random House / Elizabeth Broadbent
Hey, kid!
By now, everyone knows that dragons love tacos. Adam Rubin and Daniel Salmieri told us so in their 2012 smash-hit, best-selling picture book, Dragons Love Tacos. Published by Dial Books, it has over 1 million copies in print in North America alone. We learned that not only do dragons love tacos, but they also can't stand spicy salsa, which gives them the tummy troubles. And when dragons get the tummy troubles, oh my…they basically burn your entire house down.
The appetite for dragons, tacos, and dragons loving tacos was so insatiable that Rubin and Salmieri came up with a sequel, debuting this week. Dragons Love Tacos 2: The Sequel is, as Publisher's Weekly says, "considerably grimmer" than its precursor. It starts with dragons crying. Why are the dragons crying? NO MORE TACOS. The tacos are gone. Kaput. Vanished. So the boy and his dog decide to break out that old time machine in the garage. They'll travel back to the taco party — before the spicy salsa incident — and collect enough tacos to plant taco trees. These will ensure a bountiful supply of tacos for everyone.
Well, plans get muddled, as plans do. Dragons torch the time machine with their tummy troubles — twice. Super-spicy salsa is added instead of motor oil. Then things get weird. Dragons love diapers? Tacos love dragons? Finally, they scoop up oodles of tacos and run. Of course, tacos are scarfed on the way home, leaving the world's supply of tacos to one meager taco.
But in the end, tacos prevail. Taco trees, that is. Dragons lounge indolently beneath the bountiful trees spotted with tacos. Have fun spotting the celebrities among the taco-chomping dragons, including Daenerys Targaryen, Prince, and Gandhi. Because, as the book says, dragons love tacos. Heck, everyone loves tacos.
And everyone's going to love Dragons Love Tacos 2. It's got the same twisted sense of humor, the same hilarious, deadpan rhythm. Salmieri has the same wacky illustrative style. They've managed to do an actual sequel without rewriting the book or departing too far from the original (it helps that they keep trying to return to the original taco party). Rubin and Salmieri continue their trend of writing the perfect hipster kids' book: the offbeat humor, the element of the fantastic, the joy of the everyday (tacos!). In a future Wes Anderson film, some child will claim Dragons Love Tacos 2 as his favorite book. Everyone else will nod sagely. "You know, it was just as good as the original," someone will say.
My kids "liked that it had a flying saucer and other stuff, and the funniest part was the taco tree." They said it was great. They said it was awesome. And then they demanded tacos for dinner.
This post contains affiliate links, which means we receive a small portion of the sale if you make a purchase using these links.
This article was originally published on