Dwayne Johnson's Wife Shares Stunning Wedding Photos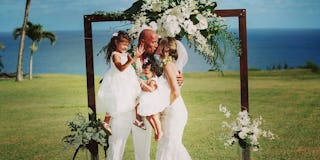 Lauren Hashian/Instagram
We just got a glimpse of Dwayne Johnson and Lauren Hashian's beautiful ceremony and it's too sweet for words
Earlier this month, Dwayne "The Rock" Johnson married his love, Lauren Hashian, in Hawaii. The ceremony was super intimate but thanks to the glory of Instagram, we just got a glimpse inside the couple's special day. Hashian just shared a bunch of super touching photos and oh boy, does it look magical.
This picture of them kissing under the pagoda where they were pronounced husband and wife is just the stuff of our dreams. It's almost too much to take. Almost.
https://www.instagram.com/p/B1qTwxXpGsx/
"Cloud 9" she simply captioned the photo.
Truly, could this be any more picture-perfect? We think not.
https://www.instagram.com/p/B1qMIl8JjVW/
Here is a snap of the beautiful bride looking so excited.
And you can't have a wedding without Polaroids. It's vintage perfection.
The Rock was already #dadgoals. Now, he's definitely #husbandgoals. And probably #weddinggoals, too.
Of course, Johnson, 47, and Hashian, 34, had their daughters Jasmine, 3, and Tiana, 16 months right by their side on the special day. The girls, who look oh-so-freaking-adorable-you-could-gobble-them-up, just made the ceremony that much sweeter.
This flower girl is pretty unreal.
https://www.instagram.com/p/B1p6vZlJNeR/
After their wedding, Johnson headed straight to the D23 Expo and talked about how he was feeling, post-nuptials. "I feel great," Johnson told Access. "It was a beautiful ceremony and it was phenomenal." He added that they kept the ceremony private which he said was "perfect."
After the expo, he said he was jumping back on a plane to join Lauren on their honeymoon.
Here they are sharing a private moment away from the paparazzi. That's got to be a good feeling when you're The Rock and all. Or, when you're wearing The Rock's rock (sorry, we had to.)
Hashian wasn't the only one taking to the 'Gram to share gorgeous pics from the special day. Photographer Dustin Shepard also posted a few snaps. "So my friend Lauren was like, 'Yo, come film my wedding…' I said, Say no more fam!!! What a magical moment to be apart of, honored to say the least," he wrote.
https://www.instagram.com/p/B1p77QeAfzT/
Johnson has shared a lot about his love for his family in the past. He has said he loves being in a house full of strong women, along with his older daughter, Simone. And he clearly loves his new wifey. Basically, he just seems like a really happy guy right now! And honestly? We're happy for him. And not at all mad that we weren't invited. Okay, maybe a little.
https://www.instagram.com/p/B1p6lNGpbjO/
Johnson has been married once before but these photos are proof that this love is pure magic. Truthfully, we feel pretty fortunate that we get to witness it. Even from afar.
Thanks, Instagram, for letting us be a part of this truly special day. Kind of. We'll take all The Rock we can get.
This article was originally published on