'Dancing With The Stars' Crowns A Winner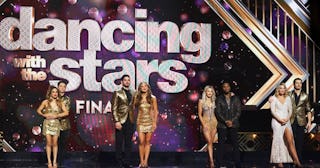 ABC
This is one of the most deserving DWTS champions in the series' history
This has been one seriously long season of DWTS. No, seriously, how has it been so long? Maybe the longest season of all time. But anyway, it's over, and as of Monday, there's a new Mirror Ball champion in town. And let me be the first one to say that she's one of the most deserving winners the show has had in recent memory, and maybe ever.
That's right — it's Hannah Brown.
Team Alabama Hannah fought hard in the finale against the rest of the final four — Laura Alaina, Ally Brooke, and Kel Mitchell — and came out on top. She and her partner, Alan Bersten, are the official winners of this season of DWTS, and I could not be more proud of her. Heck, most of the internet could not be more proud of her.
To say it's been a big, tumultuous year for Hannah would be a little bit of an understatement. For those who aren't in the know, she was the leading lady on the last season of The Bachelorette (one of the best seasons of all time, BTW). At the end of the show, she chose Jed, who proposed to her during the finale. However, as soon as the cameras stopped rolling, Jed's true colors began to show. News got out that Jed had left another woman to go on The Bachelorette, and that he initially only came on the show to boost his music career. Poor Hannah was heartbroken, and accepted an offer to go on DWTS soon after. It seemed like the distraction that she needed, but now we know it's the path she was supposed to be on right now. Also, Jed can suck it, and we hope it's super painful for him to watch the girl he screwed over become more and more of a success.
So what's next for Hannah Brown now that she's a DWTS champ? We don't know quite yet, but odds seem pretty good that she'll head off on the show's tour this summer. That means she'll be spending more time with her dance partner, Alan, which the internet will love — Twitter has been shipping those two pretty hard for quite a while now.
Will Hannah finally find love after all? And will it be because she took a chance on DWTS? Only time will tell, but we'll be here supporting her all along the way.
This article was originally published on