8-Year-Old Disqualified From Soccer Tournament Because She 'Looks Like A Boy'
by Christine Organ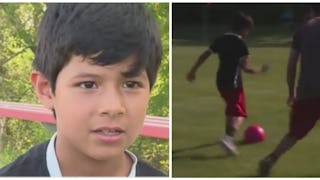 Image via WOMT 6 News
She and her entire team were kicked out of the soccer tournament because of her short hair
Eight-year-old Mili Hernandez loves two things – soccer and short hair. The pint-sized baller plays for the Azzuri Cachorros girls club team in Omaha, Nebraska. But she doesn't just play soccer; she dominates. In fact, she's so good that she plays on the 11-year-old team even though she's only eight, and last weekend she helped her team move on to the finals of the Springfield Soccer Club girls tournament.
What should have been an exciting weekend, however, was ruined when the tournament organizers suddenly disqualified Mili and her team. The reason? Mili's short hair. That's right, organizers disqualified the entire team, saying that Mili "looked like a boy."
Mili's dad, Gerardo Hernandez, told The Washington Post that they found out they wouldn't be competing just a few hours before their scheduled match. He immediately took his daughter and her insurance card – which indicates her gender as female – to the tournament, but organizers weren't convinced and wouldn't let the team play.
Like any parent, Gerardo was spitting nails about the tournament's decision. "I was mad. I never had that problem before. She's been playing so long in different tournaments," he told The Washington Post. "I don't want no problems with nobody, but that wasn't the right way to treat people. Why they want to tell my girl looks like a boy?"
And Mili? Well, she was confused and sad. Gerardo told WOWT 6 News that she "was in shock" and crying. Her brother said she tried to keep it together when she found out the entire team was disqualified, but he could tell by the look on her face that she felt bad and thought she let her whole team down.
"Just because I look like a boy doesn't mean I am a boy," Mili said. "They don't have a reason to kick the whole club out."
Gerardo said he started cutting his daughter's hair short when she was little because it was just easier, but as she got older, he asked her if she wanted to grow it longer. Her answer was always a simple nope.
"When my hair starts to grow, I put it short because I've always had short hair," she told WOWT 6 News. "I didn't like my hair long."
Although Springfield Soccer Club organizers haven't commented publicly on the incident, the internet is showing its support for young Mili. Even soccer greats like Abby Wambach and Mia Hamm have backed the girl.
After a pep talk from her dad, Mili was back on the soccer field Monday, dribbling the ball and preparing for other games. Even though she doesn't think what happened is fair, she's not going to let this setback keep her from playing the sport she loves.
"There's other tournaments that I can play."
That's right, Mili. Go get 'em.
This article was originally published on