'Ellen DeGeneres Show,' 'Bachelorette,' And More TV Shows Suspend Production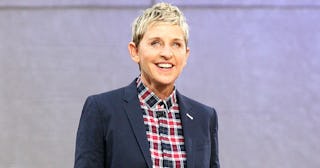 Laura Cavanaugh/FilmMagic/Getty Images
Hollywood halts production on an ever-growing list of TV shows
From daytime and late-night talk shows to primetime and hit Netflix shows, production has halted on many television shows over coronavirus concerns, including The Ellen DeGeneres Show, The Kelly Clarkson Show, The Walking Dead, Stranger Things, and more.
DeGeneres and Clarkson announced the news on Friday, March 13.
"After some more thought, we have decided to suspend production completely until March 30th," DeGeneres tweeted. "We just want to take every precaution to ensure that we do our part to keep everyone healthy. I love you guys, and can't wait to come back. I'm already bored."
Clarkson also postponed her Las Vegas residency.
"As you may know, production on The Kelly Clarkson Show was temporarily shut down last last night, and our of concern and care for everyone's safety, we have chosen to postpone the April 1st opening of my Las Vegas residency, Invincible, until July," Clarkson wrote. "Details regarding ticket replacement are forthcoming, and I can't wait to see you this summer. For now, please keep your loved ones close, safe, and healthy."
As for The Tonight Show Starring Jimmy Fallon and Late Night with Seth Meyers, NBC announced on Thursday, March 12, both late-night shows have suspended production. HBO also said Last Week Tonight with John Oliver and Real Time with Bill Maher will go on temporary hiatus starting Monday, March 16, as will Jimmy Kimmel Live. "We will continue to monitor this and hope to be back on the air with new shows Monday, March 30," a representative from ABC Entertainment told NBC.
In the world of reality TV, Warner Brothers released a statement on Friday, March 13, announcing the production delay of The Bachelorette. "With the rapidly changing events related to COVID-19, and out of an abundance of caution, Warner Bros. Television Group is halting production on some of our 70+ series and pilots currently filming or about to begin. There have been no confirmed cases of COVID-19 on any of our productions, but the health and safety of our employees, casts and crews remains our top priority. During this time, we will continue to follow the guidance of the Centers for Disease Control as well as local officials and public health professionals in each city where our productions are based."
Production has been postponed for two weeks for The Bachelorette.
Following the announcement, Bachelorette Clare Crawley wrote in an Instagram post, "We are taking it day by day and even hour by hour as this is so unpredictable. All I know for sure is that my heart is so full from all the love and support this far, and am still so excited for my journey to begin! I've waited 38 years for these moments, what's a little bit longer, right!"
Bachelorette Chris Harrison also took to Instagram to respond to the news, saying in a video: "There are hundreds, hundreds of people, from audio to camera, producers, AD's [assistant directors], art department, hair, wardrobe, driver, security, catering, you name it. This is massive. Jobs will be lost, paychecks will be lost, and there's just no way to avoid that, and that doesn't avoid the fact that this was still the right thing to do and the only thing to do."
And in the world of scripted TV, the spread of coronavirus has also shut down production of The Walking Dead, The Flash, and all of Netflix's upcoming scripted shows, including Stranger Things. The list of series that have halted production is long and continues to grow, but Deadline has a comprehensive, continually updated list.
This article was originally published on