Elliot Page Opens Up About Support He's Received In 1st Post Since Coming Out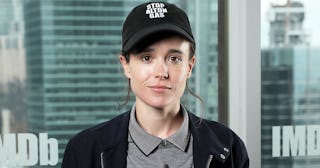 Rich Polk/Getty
Elliot Page used his first social post since coming out to thank fans for their support
Earlier this month, Elliot Page, the star of Juno and The Umbrella Academy, announced in a heartfelt instagram post that he was coming out as trans. Now, nearly a month later, he posted to social media for the first time since the announcement. Alongside a selfie, he used his platform to say thank you to his fans for the love and support he's received in the last few weeks.
The post was pretty simple: Just a selfie that showed Page in a hoodie, beanie, and glasses. In the caption, he wrote, "From the bottom of my heart, thank you. Your love and support has been the greatest gift."
Seeming to indicate that he's going to continue to stay mostly off social media in the weeks to come, Page added, "Stay safe. Be there for each other… See you in 2021. Xoxo Elliot."
He also linked to Transanta and Trans Lifeline, two organizations that provide support for trans people who need it, particularly around the holidays.
Page came out in early December, posting a heartfelt letter to his Instagram to share the news.
"Hi friends, I want to share with you that I am trans, my pronouns are he/they and my name is Elliot. I feel lucky to be writing this. To be here. To have arrived at this place in my life," he wrote at the time. "I feel overwhelming gratitude for the incredible people who have supported me along this journey. I can't begin to express how remarkable it feels to finally love who I am enough to pursue my authentic self."
Page also encouraged the trans community in his post, saying he was "endlessly inspired" by people who came out before him, and that he was proud to become another voice in the community. "Thank you for your courage, your generosity and ceaselessly working to make this world a more inclusive and compassionate place. I will offer whatever support I can and continue to strive for a more loving and equal society."
His post was immediately met by waves and waves of support from all corners of Hollywood. Page's wife, Emma Portner, also offered some sweet words of support in a social media post of her own.
"I am so proud of Elliot Page," she wrote in the post, which has since been made private. "Trans, queer and non-binary people are a gift to this world. I also ask for patience & privacy but that you join me in the fervent support of trans life every single day. Elliot's existence is a gift in and of itself. Shine on sweet E. Love you so much."
We hope the new year brings Elliot Page just as much love and support as this one did.