You Need To Watch Elmo Helping Cersei And Tyrion Get Along In Hilarious Video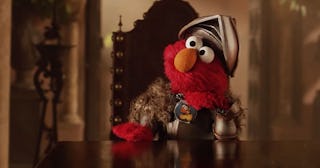 HBO / Sesame Street
Cersei and Tyrion got a very important lesson about getting along and respect courtesy of Sesame Street
What's the one thing that could maybe, possibly broker peace between Game of Thrones' bitter rival siblings Cersei and Tyrion? Hint: he's red, furry, and really, really loves toast. Elmo made the long journey from Sesame Street to Westeros in order to kickstart some much-needed dialogue about respect and friendship between the pair of enemies.
In the most recent episode of Sesame Street, Cersei and Tyrion made a cameo looking predictably furious with one another. Then, Elmo – clad in heavy armor because you never know what's gonna go down in Westeros – showed up to have a little chat with them.
"Elmo thinks that you two need to respect each other," the little creature said. "When Elmo has a problem with his friends like Abby and Cookie Monster, Elmo doesn't get upset. Elmo listens and learns from what they have to say."
Okay, so how did all that go down for the two feuding siblings? "If we stop fighting and work together we can be stronger," Tyrion rather begrudgingly said. "I'm willing to learn and listen if you are."
Cersei was… even less enthusiastic than Tyrion. But she was willing to give the whole respect thing a try. For now, at least.
Elmo was thrilled. He loves mutual respect. And toast.
This Game of Thrones peace offering between two sworn enemies is part of a larger project from Sesame Street called "Respect Brings Us Together." The television show is hoping to encourage kids to engage peacefully and respectfully with one another, despite differences in beliefs.
"A key purpose of the show has always been to model that everyone, no matter who you are or where you are from, deserves respect. Half a century later, our society is increasingly divided on many issues, and we know that kids pick up on this tension," Jeffrey D. Dunn, President and CEO of Sesame Workshop, said in a statement. "We have always shown preschoolers that everyone is welcome on Sesame Street. Our hope with this campaign is that a lighthearted look at a very serious subject can help us all pause for a moment to remember the value in respecting the viewpoints of others, even when they differ greatly from our own."
Cersei and Tyrion weren't the only characters who managed to find some common ground. Cookie Monster headed to Westworld to offer some much-needed "cookie diplomacy."
And Common collaborated on a track about respect, alongside Big Bird and the rest of the crew.
Well, that settles that. The whole Sesame Street gang is here to make this weird, confusing world a whole lot better.
This article was originally published on