Why Women Should Embrace The New Trends Inspired By The '80s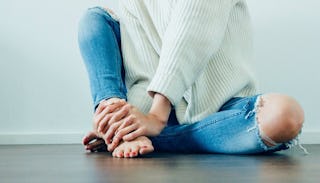 Unsplash
While shopping with my daughter the other day, she went right for the acid wash denim. It brought me back to so many places — but mainly the fifth grade. I found myself longing for a pair acid wash jeans for myself, but to be honest I didn't think I could pull it off. Can a woman in her 40s (me) get away with such a thing? I mean, I have worn it all before…although by "before" I mean three decades ago. I have heard if you have lived long enough to see a trend come around for a second time you should stay away from it.
But the more I thought about it, the more I realized the fabulousness from the '80s can open up a whole new world for a mature woman. We can use these trends to our advantage in more ways than one. For example:
High Waisted Jeans
These are everything. If you have not tried a pair, oh, you must. It is so wonderful to be all tucked in like this — kind of like wearing a denim girdle. I am the proud owner of three pairs. Screw you, muffin top.
High Ponytail
This is my old and new favorite style. It cuts down on hair brushing, and if you fashion your pony tight enough, it can double as a facelift.
Velcro Sneakers
When I first saw these bright white numbers hit the runway and fashion magazines, my mouth fell open in disbelief. How could something like velcro sneakers become this hip again? Then I realized if I bought some, I could check tying my shoes off my to-do list. It's called simplifying, people. Every second counts.
Block Heels
I remember wearing these in my younger years, and it makes sense to wear them again now. I mean, sometimes women my age like to go out looking nice and enjoy a drink. That can be hard wearing those skimpy heels with the pin-needle supports. The block heel allows you to enjoy more than one glass of wine and still be able to walk about without twisting an ankle or hanging on the shoulders of one of your friends. Those babies are sturdy.
Acid Wash
This trend is convenient for those of us who screw up the laundry because we're too busy trying to do a million things at once. Those new jeans that accidentally got washed with bleach are actually on trend, so, no need to worry.
Shoulder Pads
These are not only a great way to make your midsection appear smaller, they can also be ripped out of your blazer to double as a kleenex or maxi pad in case of an emergency. You're welcome.
Anything Neon
I remember sitting with my sisters at baseball games sucking on Ring Pops while wearing neon socks and bright jelly bracelets up our arms. The nostalgia alone is reason enough to go buy something neon. Just…maybe not the lipstick. That might be a mistake.
And so I plan to embrace all of this delicious '80s fashion that has recently come back in style. I don't care if it is the second time around. Besides, my daughter and I are almost at the stage where we can share clothes and shoes — I'd be crazy to let that opportunity go to waste.
This article was originally published on