'RHOC' Takes On Weight Gain And It's As Awful As You'd Imagine
by Kristine Cannon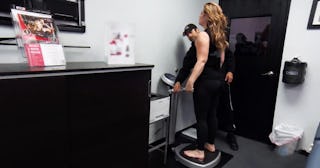 Bravo
RHOC's Emily Simpson talks about gaining weight and it's every bit as problematic as you'd think
From The Great Tucson Bell-gate of 2019 and Braunwyn Windhamburke's confessional about threesomes with her husband on "milestone birthdays," to Kelly Dodd and Vicki Gunvalson's emotional exchange of apologies at the end of an emotionally heightened (and equally as inebriated) dinner, we had a feeling we'd be met with a yawn-inducing episode of Real Housewives of Orange County this week. And we did — that is, until Emily Simpson's segment, during which she opened up about her weight gain and body image struggles. It was an incredibly relatable, albeit upsetting moment that hit viewers — and me — right in the feels.
We open up tonight's episode with Kelly, wearing her signature bold-red lipstick. She meets up with her two girlfriends from college and high school, and they share stories of the good-old, rambunctious days growing up in the Phoenix-Scottsdale area. Oh, and her brother, Eric, apologizes to her via text.
Then, we transition to Shannon Beador, who's working on new meals for her healthy frozen cuisine line, and uses Gina, Emily, and Vicki as guinea pigs. Turns out, they love the new meals.
Then, we see Gina stress yet again that she's having a bad year. And she was stood up by Emily's cousin… for a broken toe.
Honestly, you can fast-forward through most of this episode, but once you get to the scene with Emily, Tamra and Eddie Judge in Tamra and Eddie's gym, press play. Here, we see Emily, her eyes welling, as she steps on a scale after a moment of hesitancy.
"You don't have to look at it, I don't have to look at it, he has to look at it," Tamra says during the episode, as she points to Eddie. Eddie then says, "It's going to tell you your whole weight, what of that weight is body fat, what of that weight is lean muscle."
Emily reveals she hasn't weighed herself in eight or nine months. "I've been avoiding knowing any of this information. I've just been living in denial. I don't know if I want to know," Emily says. Later in a talking head, she adds, "I've been in this complete land of denial that I kind of like living in. If I don't know then I don't have to address it, then I don't have to do anything about it. I can just be like, 'Yeah I gained some weight, not sure how much.'"
Earlier in the episode, Emily revealed to her husband, Shane, and Gina that she had some weight-related health issues. And much to everyone's surprise, she turned to Tamra and Eddie. Girl, why? Remember when Tamra body-shamed you and called you Shrek?
And don't even get us started on Tamra's behavior in the gym when she asked Emily what she eats everyday (get outta here with that look you shot her when she told you she takes cream and sugar in her coffee), let alone say she's obese on camera.
Eddie tells Emily how much she weighs, around 190 pounds (the average weight for an American woman is 170), to which Emily responds, "'It's really sad to me that I weigh that much."
Should Emily's weight have been a storyline to begin with? As Emily put it earlier this month, "Great bodies come in all shapes and sizes! The most important thing is to work on your health and to carry yourself with your head held high and confidence in your stride." This is all the more reason we need to see more of Emily, the beautiful, intelligent, and confident woman she is, represented on TV. What we don't need are her castmates judging her openly on television, making her feel like she's morbidly obese — when she's not.
The fact that this storyline would resonate with so many people means something. Emily's journey and the way she feels is relatable, and that's exactly what's so upsetting about this episode. It's upsetting that any woman would burst into tears over a number on a scale. And that needs to change.