The First Pics Of Emma Corwin As Princess Diana In 'The Crown' Are Here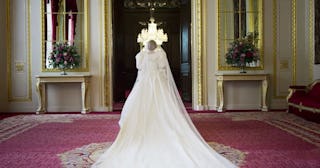 Netflix/Youtube
We finally get a glimpse Diana in her early days in the new season of The Crown
The People's Princess chapter of the British Royal family's 21st century story arc is finally here — or at least, it will be in November. That's right, the new season of The Crown will hit Netflix before Thanksgiving. But we can catch a glimpse of Lady Diana Spencer (before she was simply "Mummy" to Princes William and Harry) right now in these first-look photos from the popular British drama.
Emma Corwin landed the role of Princess Diana last year, and fans of the show have basically been waiting since 2016 to reach the true pinnacle of Queen Elizabeth's family story — The Princess Diana/Prince Charles season. With a side of Camilla Parker-Bowles, because, well, it's no secret how that all went down.
The upcoming season four will cover the courtship and engagement of the Prince of Wales and Lady Diana Spencer (he was 29 at the time they met as "adults," she was 16). And the photos hint at the drama to come between Diana, Camilla, and Charles.
Though we don't yet get a full-frontal glimpse of Corwin in a replica of Diana's legendary wedding gown in these photos, the actress told British Vogue that the reaction on-set to her appearance during that scene was momentous.
"We were filming the scene when you first see her in the wedding dress — I think it was Lancaster House in London — and I had a team of about 10 people helping me put it on, because it's massive," she said of the 27-foot-train gown. "I walked out and everyone went completely silent. More than anything else I wear in the series, it's so… It's her."
Season four will also focus on Elizabeth's strained relationship with Prime Minister Margaret Thatcher as well as the ill-fated romance of Charles and Diana. Thatcher will be played by the incomparable Gillian Anderson.
As for Corrin, she recreated many of Princess Diana's most memorable looks (so yes, there will be swoon-worthy fashion as always). She said she also developed a deep sense of empathy for the late royal and globally beloved humanitarian, because of the endless public scrutiny she had to face amid the trauma in her personal life.
"I feel I've got to know Diana like you would a friend," Corrin tells British Vogue. "I know that sounds really weird, but I get a great sense of companionship from her. I suppose, over time, you kind of start to patch together a sense of empathy and a sense of understanding," she adds. "I love figuring people out."