Calling All Crafty Quilters! How to Learn English Paper Piecing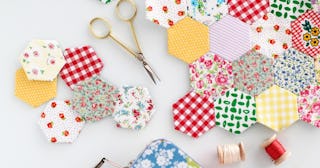 noHut Photography/Getty Images
Let's be real — quarantine and social distancing have us out here searching for more crafts to occupy our time than we can count. If you haven't learned of the latest craft craze, allow us to do the honors and introduce you to English paper piecing (EPP). Also known as hand piecing, this traditional sewing method involves stabilizing fabric pieces around a heavy paper shape before sewing the pieces together to create complex designs with a running stitch. It's ideal for shapes without long straight sides and requires numerous set-in corners — which is why hexagons are the most commonly used template.
At this point, you may be thinking… huh? But, seriously, it's actually a lot easier than it sounds (or at least will be once you practice it a few times). A little history: The method was first developed in England and was called mosaic or honeycomb patchwork (which seems obvious from its Pinterest designs). The U.S. eventually coined the term English paper piecing back in the 1700s.
If you're looking to learn how to do English paper piecing, we've got you covered with tips and templates — plus easy how-tos that will get you crafting those hexagons like nobody's business.
English Paper Piecing's Popularity
So, why is the EPP method so popular anyway? For many crafty quilters, it comes to its ease and portability. Since it's completed by hand and no sewing machine is required, you can do EPP anywhere. That could be from the comfort of your own couch to on a road trip. It's also a great excuse to use those weird fabric scraps you aren't sure what to do with. Some people like it for its precision and intricate shapes, and other people like it for its fussy cutting (a method of cutting a single motif or design from a fabric). And like most crafting projects, EPP can be a relaxing and enjoyable pastime. Um, sign us up!
English Paper Piecing Patterns and Templates
Many precut paper templates are available through quilt shops and online stores like Paper Pieces, which sells hexagons templates in multiple sizes. If you would like to make your own templates, you can trace the pattern on paper several times and cut out the shape with precision. Some other online shops like The Spruce Crafts also have several PDFs for different patterns and templates. Of course, you could always check out Pinterest! It's filled with tons of choices.
While most people (including newbies) prefer to use hexagons, there are plenty of patterns that include pentagons or other fun shapes. They're used to design everything from pincushions, tote bags, coasters, laptop covers, and even quilts. The best thing? There are definitely dynamic patterns that are good for beginners to try.
How to Learn English Paper Piecing
Like any new hobby, learning EPP will take some time and practice. Luckily, you don't need many materials to help get you started. In terms of patterns and templates, the most popular shape is typically the hexagon because it makes good use of fabric scrap and is pretty easy to assemble.
Here's what you'll need.
Fabric and matching thread
A needle
Small scissors
Glue stick
Every template and pattern will be different, so the steps will vary according to what you choose. Each pattern or template will come with a step-by-step guide on English paper piecing to help you cut and piece together fabric according to that particular design or template.
An important note? When it comes to EPP, the hand sewer typically creates a quarter inch seam allowance using their needle and thread. They start a quarter inch from the end of the shape, load stitches on the needle, and finish a quarter inch away from the end of the shape by pulling the needle through the loaded stitches. Another option is the 3/8 inch seam allowance on patterns, though. So, it depends on your preference. For the beginner, the 3/8 inch seam allowance can be a little more forgiving. If this is your first crack at it, that might be your best option!
What is the difference between paper piecing and English paper piecing?
English paper piecing is a hand sewn method that uses traditional patchwork. EPP projects are portable and don't require as many tools as foundation paper piecing. FPP is done using a sewing machine. But before any sewing begins, the design is drafted on a sheet of foundation paper using the stitch and flip method. The fabric is placed on top of the foundation paper and stitched together using a template. When the patch is done, the paper is torn away. FPP is less beginner-friendly and a more advanced form of sewing.
Best Thread to Use For English Paper Piecing
When crafting your EPP, there are several factors to keep in mind, including the kind of thread you use. It's important for your thread to be of good quality and 100 percent cotton. Medium to fine weight is a solid measurement and is about 50 to 80 weight. However, if you prefer to use polyester thread to join your pieces, that works too.
Can I use regular paper for paper piecing?
There is nothing wrong with using regular printer paper during your English paper piecing. Although it's cheaper, the most preferred paper is freezer paper. It has a shiny side and sticks to the fabric when ironed. It won't move until you remove it and can be used again and again. Regular paper is not as easy to tear from the stitches.
This article was originally published on