Amber Heard Just Revealed She Welcomed A Baby Via Surrogate
by Christina Marfice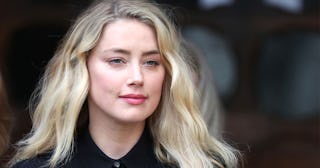 Neil Mockford/GC Images/Getty
In a sweet Instagram post, Amber Heard revealed that she is a mother — and shared her baby girl's name
Amber Heard's personal life hasn't made a lot of positive headlines in the last few years. The actor spent years embroiled in a highly publicized divorce from Johnny Depp, whom she married in 2015. As the divorce proceedings dragged on, both accused each other of all kinds of abuse and mistreatment. Now, finally, it seems that Heard is moving on. She just made a major announcement on Instagram about what's next for her life: Being a mother.
Heard posted a surprise photo to Instagram that shows her lying down, cradling an infant to her chest. In the caption, she revealed that the baby is hers, born a few months ago via a surrogate.
"I'm so excited to share this news with you," she wrote in the caption. "Four years ago, I decided I wanted to have a child. I wanted to do it on my own terms. I now appreciate how radical it is for us as women to think about one of the most fundamental parts of our destinies in this way. I hope we arrive at a point in which it's normalized to not want a ring in order to have a crib."
That is such a radical position to take in our society. As much as many women dream of becoming mothers, being a single mom by choice is so heavily stigmatized. Yet for some women, it's the only way — many women never meet a partner they want to have and raise kids with. Those women should still have a realistic path to motherhood, if it's what they want.
Heard continued, writing about how she's gone back and forth about sharing her big news with the world, but after a few months of keeping her daughter to herself, decided it was time to introduce her to her fans.
"A part of me wants to uphold that my private life is none of anyone's business," she wrote. "I also get that the nature of my job compels me to take control of this."
At the end of her post, Heard shared her daughter's birthday and name.
"My daughter was born on April 8, 2021," she wrote. "Her name is Oonagh Paige Heard. She's the beginning of the rest of my life."
If that isn't just the sweetest thing you've seen today. Congratulations to Amber and Oonagh!