Ana Gasteyer Opens Up About Parenting Teens & Being The "Fun Mom"
The comedian sat down with Scary Mommy for a few deep thoughts and a few more laughs.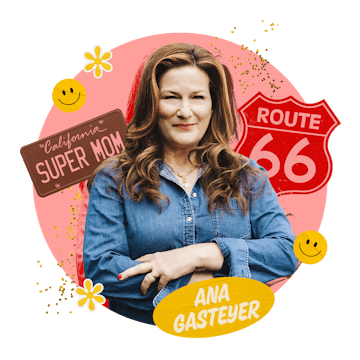 Ariela Basson/Scary Mommy; Kadian Hall, Shutterstock
Ana Gasteyer knows a lot about teens — and it's not just because of her iconic role in Mean Girls. The comedian and SNL alum (from the very best years, IMO) isn't just an actor and professional funny person. She's also mom to daughter Frances, 21, and son Ulysses, 16.
These days, she's still settling in from a cross-country move with her family from their long-time home in New York City to Los Angeles, where Gasteyer has been starring in NBC's workplace comedy American Auto. While her life is extraordinary in a lot of ways, it's also familiar: her daughter is contemplating a move back home after she graduates from college next year and her son is navigating a new school and a new culture — as well as the joys and pains of playing high school sports.
Through it all, Gasteyer is taking it all in, enjoying her role as the "fun mom," and finding a way to inject humor into everything, of course.
Recently, Gasteyer sat down with Scary Mommy to talk about it all, from her feelings about being an empty nester soon to what she's looking forward to in her career following the recent cancelation of her network show.
What Ana — who recently partnered with Kelley Blue Book — wants to talk about first, though, is the last big road trip her family took: a tour of the Southwest that included parts of New Mexico, Arizona, and Texas, including Tucson, White Sands National Park and Carlsbad Caverns.
Her best advice for toting teens in cars over long distances? Crowd-pleasing audiobooks — with regional significance.
"I do books on tape," she explains. "I try to find something that everybody wants to dig into, which is a fun challenge. Sometimes I'll have my parents and my kids, but actually YA books often meet a lot of those needs. I remember for the Southwest trip we read Tony Hillerman, who's a great Southwestern mystery writer."
She admits, of course, that interest levels will vary.
"I don't think anybody was as excited about it as I was probably, but at least the front row seemed excited," she laughs. "One that went really well was Hatchet by Gary Paulsen. When the kids were pre-teens, we did that with my parents — and my parents loved it. Everybody was kind of in it together. And Holes is another one like that that — everybody can gather around and and get hooked into the story."
If regional audiobooks fail, Gastmeyer's partner, Charlie McKittrick, likes the local flavor of talk radio stations, the more outlandish, the better.
"And then my husband just has a huge soft spot for regional talk radio because he loves to hear what's happening in every part of the country," she shares. "So when we're driving, we'll find ourselves on hours of Christian talk radio in the middle of Minnesota or Kansas."
And no road trip ever got worse because of classic rock.
"I have a real soft spot for classic rock for a dusk moment on a road trip as well. There's just something about listening to American Anthem Classic Rock with your family," she says.
While not on the road, Gasteyer's recent adventure has been moving her family west to L.A. after a lifetime of living in New York. While the move has been a breeze for Gasteyer, who has been working on both coasts for decades, and her husband, who grew up in the area, it's been harder on her son, who started at a different school.
"I've been working in L.A. for 25 years and my husband was living here when we met, so it's not totally foreign," she says. "But culturally as you know, they're really different worlds. Night and day — and it's been a big adjustment. It was hard for my teenager. Totally different everything."
The biggest adjustment for her kid has been a loss of independence, practically speaking. It's jut harder for him to get around on his own.
"New York City kids, as everyone knows, the reputation is that they're very cosmopolitan and so forth, but a lot of it is just practical," she explains. "[Kids] have a ton of autonomy early because they not in a car culture. They're able to run to the market for you when they're in sixth grade because the market is half a block away. Everything's happening in such a condensed way. In Brooklyn, in our neighborhood, he'll go play pickup ball, he can motivate himself differently than you can in L.A. It's just not the same. You have to get in the car and drive them everywhere."
The kids sports culture is also different in a way that's been challenging.
"He really likes sports for all the reasons that I think are pretty healthy, which are social — and to actually use the verb play to play games," she says. "And [here] it's pretty high octane. Like many things in the world of our children now, it's all oriented towards being the best. I don't know, I think you sort of lost the spirit of fun around it. Southern California is just very serious, like hardcore high school athletics program across the board. It's very competitive here."
While parenting has been challenging through the pandemic and the move, Gasteyer has a gem of advice to give when asked about the biggest lesson she's learned while parenting.
"I never really try to get caught up in the smaller control battles," she says. "I subscribe to the philosophy that my job is to help them fly away, which is a really strange paradox because all you want is for them to be around you forever because you love them so much. And yet your job is to help them feel sturdy on their own feet and do their own thing. So teenage years are fraught for that very reason, I would assume. You're right in the throes of independence and figuring out what that means. I have a 21 year old now, so I'm sort of on the other side of it with one and really in the thick of it with the other, and I would say that I try not to waste my power struggles on messy rooms and choices of attire."
Tattoos get filed under "not worth the battle" while school doesn't.
"My daughter got tattoos really early. I don't have any tattoos, I don't want any tattoos, but I was like, it's your body. I'm not gonna like put up a wall there — I would rather do it on issues of mental health and safety," she says. "We really value college in our family. I really wanted them to go to college and get an education. So trying to put their focus on applying themselves towards their schoolwork and applying themselves toward making strong moral decisions."
"Not that I did it all successfully," she laughs. "We had plenty of flops along the way."
She also admits that she's been a working parent for her kids' lives, granting her the luxury of being a "fun mom" in between travel and jobs.
"In some ways able to come back and be fun, more than some moms get the luxury to do so," she says.
How does she feel about becoming an empty nester in the near future?
"Devastated and terrified," she answers immediately.
Although it might not be for too long. She shared that her 21-year-old daughter just announced she might be headed home after graduation.
"It's different than it used to be," she says. "It wasn't even on the table for my generation. My parents were like, you're obviously not moving home. And I think it's just so common now because of job scarcity and the cost of housing and all of that. But also I think this generation is a little more connected and later bloomers."
While nothing's set in stone at the moment, Ana says that she'll plan on keeping a space big enough for her kids to come back "to accommodate a possible return for some indefinite period of time," that would also allow autonomy.
On her side, Gasteyer is looking forward to lots of small, fun projects as well as a possible movie in the mix. She'll be playing a small part in a new indie comedy by YouTube comedian Lily Singh (she loves the script). And she and long-time collaborator and SNL buddy Rachel Dratch have written a script for a second Clüsterfünke movie — a follow-up of the Hallmark romcom satire A Clüsterfünke Christmas, which came out in 2021.
"It's nothing but fun to write with Rachel and I love Christmas and it's my brand," she says.
Finally, she has a few words for any parents out there who have kids who are interested in comedy.
"Just encourage it. Support it," she says. "When they announce that they're gonna go become a standup or a comedy writer, maybe don't shut it down — which would be one's instinct," she says with a laugh.