Andy Cohen Admits He Broke Down In Tears After Taking His Kids To The Park
Being a single gay dad can be super lonely.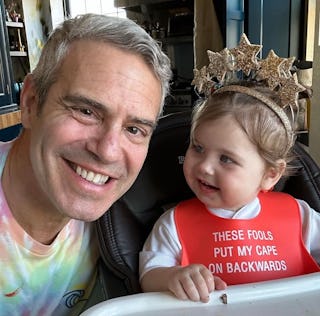 Instagram / Andy Cohen
Watch What Happens Live! host and Bravo exec Andy Cohen got real about the struggles he faces as a single dad. Cohen, 54, opened up during a guest appearance on the Two T's In A Pod with Teddi Mellencamp and Tamra Judge podcast about how being a single dad has opened up a new vulnerability inside him and how life became a lot more real after welcoming his second child into his world.
Cohen is dad to son Benjamin, 4, and daughter Lucy, who just turned one in April.
Cohen admitted that his feelings came to a head during a chaotic moment while at the park with his kids.
"The sprinklers went off, and I didn't know to have a change of clothes," he explained. "I looked around, and I'm the only single parent there. I'm the only gay dad. I just felt like I was on an island, and I went back to my house, and I cried. I cried more than once."
The radio show host explained that the situation "opened up a vulnerability" inside of him.
"It was just a trigger," he continued.
Cohen also said that things started to get more intense for him once he became a parent of two.
"The thing that has been for me in the last year is when Lucy came, I think it really changed me as a parent," he said. "I felt way more in control when I had just one. Then when I had two, I not only felt, not out of — I don't want to say I felt out of control, but I just felt the experience got a little lonelier for me. I started to feel more vulnerable."
Cohen goes into more detail on these moments in his new book, The Daddy Diaries, where he also talks about his decision to hire a "baby nurse."
While Cohen details how he has hired help most days to assist with his kids, he does plan to continue to be a present figure in their lives.
"I want to be the only one there at night. By the way, I hate it because Lucy doesn't sleep like Ben does, but I'm the one that's there and I want them to know that this is our family, and I'm there," he said on the podcast.
"I do want people to know how involved I am."
And it comes through, for sure.