Andy Cohen's Absolute Rant To Anderson Cooper About Toddler Beds Is Too Real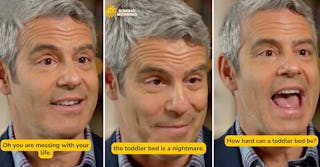 Instagram / @cbssundaymorning
There comes a time in most parents' lives when you must change your kid's sleeping arrangement from a crib to a toddler bed. For my family, that change was as easy as switching out one of the sides on my daughter's crib. I thought the transition would go totally smooth since, technically, it was still her crib with just a little more freedom. I was so horribly wrong.
Andy Cohen, 54, knows this all too well — and even tried warning his friend and fellow dad Anderson Cooper about the nightmare that is the toddler bed transition. Cohen has two children, Benjamin, 4, and Lucy, 1. Cooper has a three-year-old son, Wyatt, and a one-year-old named Sebastian.
During a friendly interview on CBS Sunday Morning, as the two friends talk fatherhood, Cohen asks Cooper, "Has Wyatt moved to a toddler bed yet?"
"No. What is your obsession with toddler beds?"
"Well, uh-huh, call me when Wyatt moves to a toddler bed. It is hell."
"How hard can a toddler bed be?"
"Oh, you are messing with your life!" Cohen says with a laugh while Cooper giggles.
"Basically, what we're all doing... is keeping our children in a cage, which is the crib, okay? No, I mean, they can't get out. … But the toddler bed is a nightmare, because they now have free will. And they are coming to you at all hours. All of the rules? No more. The lines are blurred. And the power shifts. Young Benjamin holds the keys to the castle."
Cohen's stories about parenthood have been going viral for their very real and no B.S. take. Cohen often shares videos of his children being, well, children and helping all us parents feel a little less like crap. Celebrities! They're just like us!
The Watch What Happens Live host also posted a video to his Instagram Story recalling a rough moment he had earlier that morning with his son, Ben.
"My apologies if you were in the West Village on Hudson Street this morning and saw me absolutely lose my mind," he professed. "Ben was upset that he was wearing shorts and wanted to change. He won, he won, he won. We went back up and changed."
Cohen added that Ben will likely "be hot later—I explained, it's gonna be 80 today, but he won, and we move on."
"Very frustrating start to the day. It's been [a] very frustrating day so far," added Cohen.
Cohen also shared a video of Ben losing his mind over Cohen's fatal mistake of breaking off a piece of Ben's cookie and giving it to his little sister, Lucy. In the video, Ben's wailing can be heard while an exhausted Cohen tries to reason with him.
"I think it's nice for you to share," Cohen says. "Y'know maybe when Lucy has her cookie, she'll share a little with you. Wouldn't that be nice?"
However, Ben's not having it.
When Ben is out of ear shot, Cohen says to himself, "Maybe I shouldn't have given you the cookie? Then none of this would have happened."
Cohen captioned the video, "Welcome back from book tour, daddy!"
Cohen was out doing press for his latest book, The Daddy Diaries: The Year I Grew Up, which hit stands today. Going to hazard a guess that there are even more real parenting moments within its pages.