Andy Cohen's Screen Time Negotiations With Son Ben, 4, Will Make You Say "Been There"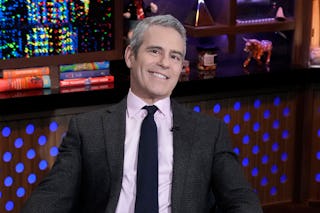 Bravo/Getty Imagees
Watch What Happens Live host Andy Cohen has shared a truly relatable look into his life as a dad. In a new Instagram post, Cohen looks like he's at his wit's end while his son, 4-year-old Ben, sobs in the background. The reason for the meltdown? Ben wants to watch more television.
Hey, been there. Screen time remains a major point of contention between parents and their kids, especially younger babes. But there's just no reasoning with a preschooler — though, like many parents, Cohen certainly tries. He even attempts to break down the math that one show's episode is twice as long as the other. Alas, Sam is not having it, and poor Cohen has met his match. (PSA: Screen time doesn't exist before 9 a.m.)
"I let you watch one already," says an exasperated Cohen. "Do you understand? I told you that you could watch one, dude. I told you you could watch one, and how many did you watch?"
"Two," Ben replies, still wailing in the background.
The father-son standoff must feel familiar to a lot of parents, because it's already garnered more than 110k likes and is still going strong. Cohen simply captioned the video, "Early morning negotiation... (spoiler alert: I held firm!)."
Cohen is also father to Lucy, who is not quite a year old yet. Across his Instagram, fans and followers can find many doting posts from the proud papa, even captioning a recent photo of Lucy with "My Queen." In this instance, though, Cohen was clearly fed up with the theatrics — as any parent can relate to.
Of course, the video doesn't stop with Ben's answer. When asked how many he wanted to watch, Ben shared that he wanted to watch three. Three total or three more? No matter the answer, he was looking for more than Cohen was willing to concede.
"Two! So that was so nice of me," Cohen answered his inconsolable kiddo. "So, how is there a third in play? ...You want three more? I kinda feel like I'm negotiating with a terrorist right now. I feel like you keep changing the game."
After growing even more exasperated with the situation, Cohen brings out logic. An episode of Mighty Express is twice as long as an episode of Fireman Sam. "You know, one Mighty Express is worth two Fireman Sams," Cohen tries. "Does that make you feel better? It should. It's just reasoning — I'm just reasoning with you."
Cohen ends the post by shrugging at the camera, Sam still sobbing in the background.
Oh, Cohen. Just wait until Sam gets older! Soon you'll have to explain why Sam has limited screen time while Daddy gets to (aka, has to) watch a ton of television for work.
"Celebrities. They're just like us," is usually said sarcastically. However, it tracks here. With the invention of televisions, computers, smartphones, and tablets, screens exist all everywhere in modern homes and families. Limiting screen time and sticking to it has become a parental version of "fighting the good fight." Hopefully, the rest of us can hold firm with as much gentleness and humor as Cohen.