Auliʻi Cravalho Shares The Powerful Advice She'd Give To Anxious Teens
The Moana star chats with Scary Mommy about her new Disney series Hailey's On It, the importance of representation, and being the hero of your own story.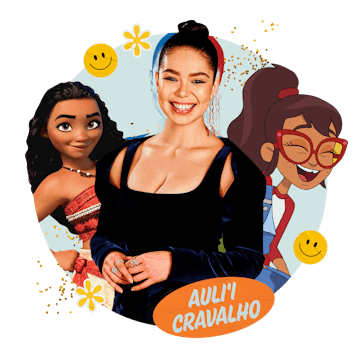 Ariela Basson/Scary Mommy; Disney, Getty Images
Moana is *big* in our house. If my kids don't belt out "How Far I'll Go" at least twice a week (oh, who are we kidding, it's me), something is wrong — send help. And while marrying into a Hawaiian family has a lot to do with just how meaningful the movie is to me, most parents can likely relate to our household's Moana obsession.
So, when I heard Auli'i Cravalho was set to voice a lead animated character for the first time since bringing Disney's Hawaiian princess to life, I couldn't wait to watch. In Disney's new comedy-adventure series Hailey's On It, she plays the eponymous Hailey, a risk-averse but resourceful teen who learns the fate of the world is essentially in her awkward adolescent hands.
To get the scoop for Scary Mommy — and, let's be real, earn some cool cred with my kids — I sat down for a 1:1 Zoom with Cravalho.
Scary Mommy: We're so excited about this series. Can you describe Hailey for us?
Auli'i Cravalho: Hailey Banks is a young teen who has this long list of things that she would really like to do — call it a bucket list. All of her hopes and dreams are in this notebook, and she's always been a little too afraid to complete any of those list items, until she's visited by a scientist from the future who tells her, "Hailey Banks, you must complete every single item on this list in order to save the world." Thus begins our journey.
I have been so lucky to play and voice characters who are wanting to change the world, who speak up for what they believe in. And when I was introduced to Hailey, I was like, Oh, I see you. I love who you are. So, I was so pleased to be able to bring her a voice and bring her life.
SM: Do you see shades of yourself at 14 in Hailey?
AC: I was fearful of making big decisions at 14, for sure. I would've loved a friend like Hailey at that age. I also think, though, she's really lucky that she was visited from the future by someone who told her, "You're going to change the world." I think if we tell our young audiences, "Just by existing, you making decisions, you are so important… you're going to change the world," that would make our society as a whole so much more vibrant and so much richer.
SM: Hindsight is so powerful. If you could visit yourself at that age, what would you tell yourself?
AC: I haven't gotten that question, actually. I have to preface, though, that was the age I was cast as Moana, and I was so grateful and so ready to be along for the ride. I would tell myself to journal, to write it down. So much of those memories I don't actually remember. And I would also tell myself, "You're actually going to keep working in this industry. You don't have to be so scared."
I really thought that Moana would be my one job and that I would fade into the background, and I was so scared. But I've given my heart to every project that I've been a part of, and thankfully I think that's what keeps them coming back.
SM: One thing I love about this show is it's fun and imaginative but also deals with some of the anxiety-inducing things this age group faces — like crushes and first kisses. Do you hope this helps normalize conversations around those things a little?
AC: Something I would say is that being anxious is so normal. It is, I think, one of the ways our bodies tell us we're about to do something really exciting, something we really care about. I get nervous for every interview. I'm not joking — my tummy is rumbling.
If you take small steps to conquer that anxiety, what meets you on the other side is this feeling of, Ooh, I did that. Hailey has a watch that tells her when she's checked off a list item, but for those of us who don't have a watch sent from the future, you need to find your own inner sense of peace. It's something that I'm working on, and I'm 22. So, it's a lifelong journey! But believing in yourself, and taking the small steps to achieve your dreams, it's so worth it.
SM: And you don't have to do it by yourself, as Hailey shows us.
AC: Hailey Banks has a really beautiful support system of her parents and her friends and her chosen family, and that's also important. Sometimes you don't have to do it all alone. You can have your best friend support you along the way and hold you accountable and cheer you on. I hope that every single person watching this has their own personal cheering section. That's equally as important.
SM: If you were to write your own bucket list, what would be on it?
AC: I want to adopt three to five more cats. I would love to be in a Marvel movie, and I would really like to go to college. I got into Columbia, and I was so scared that the industry would just move on and forget about me that I deferred so many times … now I need to reapply. So, that's my "kiss Scott Denoga." I will wait, and I will hope, and I will dream, and I will get there one day — I know it.
SM: You mentioned Moana, a life-changing role. How did it feel to find out about the live-action version?
AC: It all started with a phone call, and I was told that live-action Moana would be in the works. I knew that Dwayne Johnson would be reprising his role as Maui, and I was given an EP credit.
I knew how important this character was for me as well as my community. I remember how it changed my life and started my career. So, I'm really looking forward to passing that baton to the next young woman of Pacific descent. Because I look around, and I truly think that I could see so many more young Pacific Islander women [onscreen].
I hope that this just continues the legacy: Moana keeps giving back to this younger generation, reminding us that you can be the hero of your own story. That you don't need a love interest to complete you. That you can go far beyond the reef, and you will make your family proud. These are all themes that resonate with so many audiences, and I'm glad that the Moana universe just keeps expanding.
SM: My husband's family is Hawaiian, and we've found people in the States view them as very racially ambiguous. Has that been true for you?
AC: I get that to this day — that I am racially ambiguous. Having grown up in Hawaii, my identity has always been Hawaiian, and it was so weird coming here and having that identity stripped away from me. Oh, that's so spot on.
SM: So, how do you stay grounded in who you are?
AC: The way I keep that alive is I go home to Hawaii; that's what makes me feel most grounded. I also miss dancing hula. I miss the food that connects me... If I eat a Spam musubi, I'm like, "OK, I can hold out a little longer" when I'm away from home.
It's a struggle that all mixed kids and people who have mixed heritage experience, and the way I've figured out how to deal with it is that I know in every room that I walk into, I represent exactly how I was raised. I represent my people, I represent my culture just by existing, just by being there. That has removed some of the anxiety that I felt about voicing such an iconic character who is so important to the community. I was like, How do I be a Disney princess all the time? And it's just too much pressure.
SM: What would you say to other people who face the same sort of erasure?
AC: Being Pacific Islander, AAPI, or just a person of color where you feel a little bit out of place, just know that when you plant your feet, you stand in your own power. And you have such a unique background. No one shares your same upbringing or your same experience.
This interview has been edited for length and clarity.