Ayesha Curry Reveals Her 11-Year-Old Daughter Has a "Full" Skincare Routine
It's started a conversation about the right age for toners and moisturizers.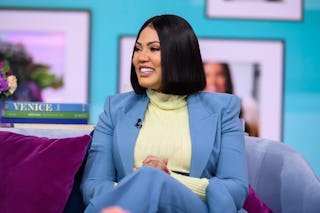 NBC/NBCUniversal/Getty Images
In 2020, I finally decided to start taking my skincare seriously. I was 30 years old. As I read and researched the best kinds of cleaners and serums to use on my face (day and night), I soon began to realize that I was way behind the curve when it came to skincare.
So, when should you begin to start to take care of your skin and nail down a quick skin care routine? For some, it's when they start to see that first forehead wrinkle, for others it's time to start taking skincare seriously when teenage hormone acne develops, and for some, it's at the ripe age of 11 years old.
Ayesha Curry, cookbook author and mom of two, revealed to People that her oldest daughter, Riley Curry, has nailed down a "full" skincare routine at just 11 years old.
Curry — who shares Riley as well as Ryan, 8, and Canon, 5, with NBA star Stephen Curry — said that her oldest daughter was insisted upon starting her own regimen when it came to taking care of her skin.
Curry admits that growing up, she was a novice when it came to skincare heath and wasn't using any products of quality. Now, with her own new skincare line, Sweet July Skin, Riley has access to higher quality, personalized products.
"I had no routine as a teenager. I feel like I was not using great products, but that's all I knew," she said.
She remembers that having a solid regime "just wasn't a thing" back then. Now, thanks for social media and TikTok, dermatologists have a bigger platform to share skincare knowledge and products that work.
"My oldest [Riley], she's 11, and she has a full routine for her skin and she is into it. It's non-negotiable for her."
Curry thinks that, though she's barely a tween, Riley's desire to have a full skincare routine is a sign that she's taking responsibility and learning how to care for herself.
Curry continued, "I go in the mornings to wake her up for school, and she's already up in the bathroom washing her face — toning and putting on the serums and the moisturizers. I'm like, 'This is incredible.' She's learning how to care for herself, but I certainly was not like that at that age."
The Canadian-American actress gives herself some credit when it comes to Riley's desire to learn about skincare, telling People that she picked up on her own routines and concerns about "problematic skin."
She also revealed that sometimes her regular skincare routine turns into a spa night with her girls.
"I feel like that's really cool. We'll even have nights, the three of us, where they're like, 'Can we have a spa night, mommy?' We'll get in the bathroom and do the face masks — they love to do the jelly mask that peels off."
She continued, "We're creating memories, but we're also creating this beautiful ritual that they'll take with them into their adulthood. I'm excited about that."
Though some may think 11 years old is too young to have an entire skincare routine, Riley is actually right on track according to experts.
Dr. Geeta Yadav, board-certified dermatologist and founder of FACET Dermatology, told Scary Mommy that skincare can begin for kids as young as five years old.
Yadav says that, "kids around five or so can understand that if their face is dirty, it should be cleaned. They can also understand that if their lips are chapped or if their knees are dry, lip balm and moisturizer can help. Kids understand a lot more than we give them credit for."