Will Based On A True Story Return For Season 2? What We Know About The Killer Comedy's Fate
That cliffhanger in Season 1 can't be the end for Ava and Nathan, can it?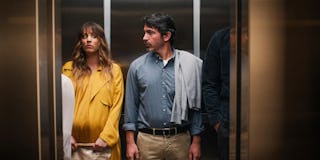 Peacock
Based on a True Story's first season served up more twists and turns than a real true crime podcast, but it saved its biggest "OMG" moment for the Season 1 finale. The show's eight-episode first season is streaming now on Peacock, so we won't spoil the end — but it's safe to say it will leave you wanting more. The big question is, will Based on a True Story return for a second season of dark comedy fun?
The series follows the firmly stuck-in-a-rut married couple Ava (Kaley Cuoco) and Nathan (Chris Messina) as they inject a little energy back into their marriage when they force the Westside Ripper serial killer/their plumber Matt (Tom Bateman) to make a podcast with them. Their grand plan of turning their lives around with a hit true-crime podcast quickly goes off the rails because they're working with a serial killer, but the risk-taking does bring them closer together as they await the birth of their first child.
In a statement to Deadline, series creator Craig Rosenberg shared that he always envisioned the series as a way to hold a fractured lens up to true crime-obsessed America via a relatable married couple trying to make the craze work for them. "Over the last decade, a true crime phenomenon has swept over America. Podcasts, documentaries, fictional shows based on true stories — they dominate the culture. Murderers have become celebrities and celebrities have become murderers, which inspired me to create this show," he explained.
Rosenberg continued, "I became fascinated with the idea of a relatable married couple whose youthful dreams hadn't come to fruition and who saw the true crime tidal wave as an opportunity to change their lives and save their marriage. Our Los Angeles setting — the city where everybody wants to be famous — became a vivid backdrop to our story of fame, ambition, aspiration, and murder."
Read on for everything we know about a potential Based on a True Story Season 2 ahead.
Has Based on a True Story been renewed?
Peacock has yet to renew or cancel Based on a True Story. Hollywood is in a weird holding pattern right now due to the ongoing writers' strike. Until the WGA (Writers Guild of America) and the major studios reach a deal, most of your favorite shows are going to be in a holding pattern.
Given the star power behind the comedy, and the early buzz it generated, Based on a True Story has a decent chance of earning a second-season renewal. However, Peacock is still a young streamer that's building its brand. Over the past few years, they've canceled several promising shows, including Girls5Eva, the Saved By the Bell reboot, and One of Us Is Lying.
At this stage, it's hard to predict whether or not the show will return, but it's clear from the season finale that Rosenberg has more stories planned for Ava, Nathan, and Matt.
What has the cast said about a potential Season 2?
Cuoco, Messina, and Bateman all appear eager to return for Season 2. In a June interview with Variety, the trio of actors shared their hopes for a second season, and where they would like to see their characters go next. Both Cuoco and Messina said they wanted the show to lean into the fact that Ava and Nathan are "just as bad as Matt" in their own way.
"I would love for that to be Nathan, but maybe it will be a bit of us both," Messina said of the couple being drawn further into Matt's world. "I wouldn't mind it getting darker and more twisted from here. I could see them as a screwed-up version of Bonnie and Clyde."
Bateman added that a potential Season 2 would likely explore Matt's backstory in more detail. "Craig really does want this to run for a few seasons, and I think it is something where he didn't want to spend all of his chips on Season 1," he said. "He wanted to hold something back and have a few firecrackers in his pocket."
How will the arrival of Ava and Nathan's baby change the dynamic between the show's central trio?
For most of Season 1, Ava was reluctant even to mention the impending arrival of her and Nathan's first child. Cuoco, who was pregnant with her daughter throughout filming, thinks the podcast was a coping mechanism for her character. "I think Ava was in denial the whole season that she was having a baby, and this was all a distraction for her," she explained to Variety.
Meanwhile, Bateman believes having a newborn around will add a whole new layer to the show if it gets picked up for Season 2. "As much as they are tied to him now, Matt also becomes dependent on them," Bateman said. "And they are the people who have properly seen him. I don't think he has a lot of friends. So, I think a baby will only add more fuel to the fire of the comedy and craziness that is our show."