Ben Savage Is Running For Congress Because Of Course He Is
Attention 'Boy Meets World' fans!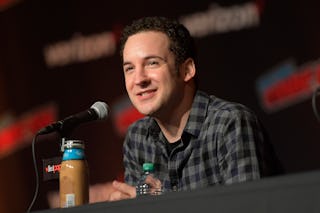 Roy Rochlin/Getty Images Entertainment/Getty Images
When the hit ABC sitcom Boy Meets World went off the air 22 years ago, hearts collectively broke all over the country. What would we all do on Friday nights if we weren't glued to our TVs wondering if Cory and Topanga would actually make it?
Since the show ended, no one from the original cast has really gone on to do anything major in terms of acting. But never fear! You'll be pleased to know that Savage, 42, best known for his portrayal of Cory Matthews, is planning a run for Congress.
According to paperwork filed with the Federal Election Commission on Wednesday, a committee has been created for Savage's campaign. Savage plans to run as a Democrat for California's 30th District seat, which is currently held by Rep. Adam Schiff, D-Burbank.
Schiff has been in talks to run for U.S. Sen. Dianne Feinstein's seat. Though Feinstein has yet to make a decision on her future, rumors are swirling that she will be stepping down, according to Deadline.
Savage will have some competition: Three others have put their hat into the ring and filed paperwork with the FEC for the District 30 seat — California Assembly member Laura Friedman, Nick Melvoin and Josh Bocanegra.
It might come as a surprise, but this is not Savage's first time running for public office. In 2022, he ran for a seat on the West Hollywood City Council because "people have become disappointed with the direction the city is heading."
He continued, "We need new leaders with a fresh perspective who are ready to begin tackling these issues."
He did not win that seat.
While most would suspect that acting would be at the forefront of Savage's hobbies, politics has been an interest his since he was younger. He even interned for Sen. Arlen Specter of Pennsylvania while he was a student at Stanford University in 2003, according to Rolling Stone.
Savage will most likely have the support from his Boy Meets World cast mates, as well as his now-fiancée, Tessa Angermeier.
Earlier this month, the former Disney star shared a photo of himself posing beside Angermeier who was sporting a diamond sparkler on her ring finger.
"The best is yet to come," the actor captioned the photo.