like mother, like daughter
Blue Ivy Took The Stage With Beyoncé During Her Mom's First Concert In Over Four Years
Knowles and her 11-year-old sang a duet of their song "BROWN SKIN GIRL"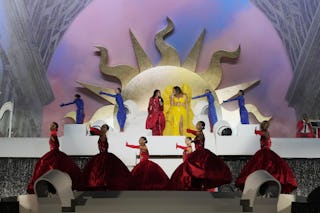 Kevin Mazur/Getty Images Entertainment/Getty Images
Looks like Beyoncé definitely has a little performer on her hands! After a four year break from any sort of tour, Beyoncé surprised the world when she returned to the stage this weekend to perform a 75 minute set at a new, luxurious hotel — The Atlantis Royal — in Dubai.
The "Cuff It" singer, 41, dazzled in a yellow corseted dress topped with a feathered skirt as she sang hits such as "Drunk In Love" and "Beautiful Liar." Variety reported that the performance was invite-only with guests such as Kendall Jenner, Rebel Wilson, Chlöe Bailey and Halle Bailey in the crowd.
Knowles' husband — Sean "Jay-Z" Carter — was also in attendance. Knowles and Jay-Z — who married in 2008 — share 11-year-old daughter Blue Ivy and five-year-old twins, Rumi and Sir Carter.
At one point during the performance, Knowles was joined on stage by her mini-me, Blue Ivy, for a duet of their song "BROWN SKIN GIRL," the original song created for the soundtrack of the live-action film The Lion King: The Gift.
"Where are all my brown skin girls? Give it up for my baby, my brown skin girl, Miss Blue Icy Carter," Beyoncé said, according to The Hollywood Reporter, who was in attendance at the event.
"Love to all the brown skin girls. If you love brown skin women, help me sing," Beyoncé continued.
Dressed in a red, sparkling outfit, Blue Ivy sang her portion of the Grammy Award-winning song, while her mom, wowed the audience with her vocals. . The singing was accompanied by an all-women orchestra of 48 people. The two held hands on stage while performing.
"BROWN SKIN GIRL" seems to be just the start of Blue Ivy's journey to follow in her mom and dad's musical footsteps. She is credited as a songwriter on the award-winning song, appeared in the video, and had her vocals on the recorded track for the album. However, this Dubai performance is special since it marks the first time the mother and daughter duo have performed it together live for fans.
At the end of the song, Variety reported that Blue Ivy gave her mom a hug and walked up the stage's steps, where she then posed for photos and blew kisses, really working the crowd.
In true Beyoncé fashion, the night included fireworks, an intricate drone display, and a DJ set by Swedish House Mafia.
Her show-stopping Dubai concert comes just two weeks before the 2023 Grammy Awards, where she is nominated for nine honors for her latest album — Renaissance. She has a chance to set a record by becoming the most decorated Grammy winner of all time. How can you not root for her?