Jay-Z Shared Blue Ivy's Original Baby Name & Why He And Beyoncé Decided To Change It
Okay, that is just an incredibly cute story.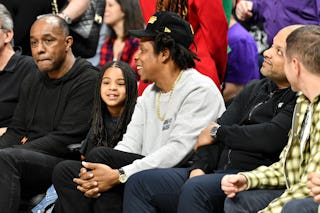 Allen Berezovsky/Getty Images Entertainment/Getty Images
How do you come up with the name Blue Ivy? It turns out, in the cutest way ever possible. This week Jay-Z sat down for an interview with Gayle King on CBS Mornings and talked about his eldest daughter's original name and how it got slowly set aside during Beyoncé's pregnancy.
"She was meant to be Brooklyn," the rapper and business mogul revealed of his 11-year-old daughter, who now takes the stage with her mom. "It was supposed to be Brooklyn, that was the name we had in theory."
And that would have been a cute name, for sure. And it would have been meaningful, to boot. Blue Ivy's dad was born and raised in Brooklyn, and her family still spends part of their time in New York. Much of Jay-Z's charitable work also still involves the Brooklyn neighborhood where he grew up, Bed-Stuy.
But Blue's name came about naturally, out of a nickname.
"But when we got the sonograms, you know, [the baby] is super small, and we was calling her a blueberry," Jay-Z went on in the interview. "Like, 'Look at the little blueberry!' It was like a nickname. For nine months we were like, 'Look at the little blueberry.' So it was just natural, we just took the 'berry' off and called her Blue."
Okay, that is the cutest thing I have heard today.
Later in the interview, Jay-Z gushed about how proud he is of his eldest daughter, especially as she's been making her own music and sharing the stage with her superstar mom this year.
"What makes me super proud and I still get goosebumps seeing her walk on stage," he said. "Blue's been born into a life she didn't ask for. Since she was born she's been [under] scrutiny and the public eye and everyone having an opinion — even as a little girl, how she keeps her hair. So for her to be on that stage and reclaim her power — and the song is called 'My Power,' you can't write a better script."
Jay-Z and Beyoncé welcomed twins Rumi and Sir in the summer of 2017. In an interview with Rap Radar later that year, he explained the origin of their baby names, too.
"Rumi is our favorite poet, so it was for our daughter," Jay-Z explained, referencing everyone's favorite 13th Century Persian writer.
"Sir was like, man, come out the gate," he then said of his son. "He carries himself like that. He just came out, like, Sir."