Amplify AANHPI Voices This May With These 14 Must-Read Books
It's Asian American, Native Hawaiian, and Pacific Islander Heritage Month!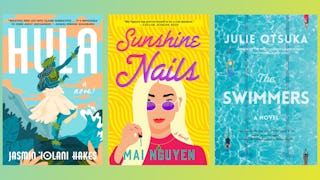 Amazon/Scary Mommy
We may receive a portion of sales if you purchase a product through a link in this article.
Reading is a lot like traveling — but arguably better, because books give you the opportunity to travel all around the world and learn about different cultures and traditions without ever leaving the couch. Books allow us to immerse ourselves in other people's stories and, by doing so, amplify voices from different communities. After all, if we don't venture out of our reading safety net, how else are we supposed to diversify ourselves and be better?
With May being Asian American Native Hawaiian/Pacific Islander Heritage Month, there is no better time to start diversifying your bookshelf with stories celebrating AANHPI heritage. Those who ache for a romance novel that pulls at the heartstrings will want to start off with Jenny Han's The Summer I Turned Pretty series. If family drama or murder is your literary kryptonite, check out The Family Chao by Lan Samantha Chang or Age of Vice by Deepti Kapoor.
This list shines a light on just a few of Scary Mommy Book Club's favorite reads from our favorite AANHPI authors, featuring a broad scope of cultures, eras, and locations. Happy reading!
1. Yellowface by R. F. Kuang
In Kuang's razor-sharp literary masterpiece, we meet June Hayward, an aspiring writer who would do quite literally anything to be an established author — even if it means passing off a dead person's finished manuscript about Chinese laborers during WWI as her own. Under her team's discretion, June rebrands herself as Juniper Song, an Asian American author whose new book is slated to become a New York Times bestseller. What could possibly go wrong?
2. Hula: A Novel by Jasmin 'Iolani Hakes
In this just-released novel, Jasmin 'Iolani Hakes takes readers to Hilo, Hawai'i, where we meet three generations of Naupaka women: a dynasty revered in the area for their contributions to hula. Young Hi'i doesn't fully understand her family legacy, but that doesn't stop her from trying to live up to it — namely, by trying to win the next Miss Aloha Hula competition. But the harder she tries to prove her worth and live up to the family name, the harder it gets. With tensions and rifts growing, Hi'i soon faces a revelation she never saw coming.
3. Counterfeit by Kirstin Chen
If you're a fan of Reese's Book Club, then you're probably familiar with Counterfeit by Kirstin Chen. Twenty years have passed since college roommates Ava Wong and Winnie Fang last spoke, and a lot's happened. For one, Winnie is super rich and has more designer bags than the Kardashians combined. Her secret? They're fake! Living in Mainland China, Winnie needs a U.S. passport holder who can help expand her counterfeit luxury handbag service. With Ava's personal life falling apart at the seams, it's time Winnie pays her old friend a little visit.
4. The Do-Over by Suzanne Park
An employer's background check alerts Lily Lee that, unbeknownst to her, she never actually earned her college degree. With a book deal on the line and her dream job within reach, Lily has no choice but to redo her senior year. As if schlepping down memory lane at her alma mater isn't mortifying enough at thirty-something, her class's hot TA is *drumroll please * her ex-boyfriend. Told in dual timelines, The Do-Over is a Korean American love story about second chances in both love and life.
5. The Family Chao by Lan Samantha Chang
The Chao family may look like a big, happy, cohesive unit, but behind closed doors, they're anything but. When the family's patriarch is found dead, one question remains: Who will inherit the prosperous Fine Chao restaurant? Each of Leo's sons has something to gain, and it's not long before Dagou, Ming, and James are all labeled suspects in their father's murder.
6. The Swimmers by Julie Otsuka
A crack in the bottom of the community pool sends Alice down a spiraling and dark rabbit hole, escalating the onset of her dementia. Excavated from her happy please and without the companionship of her lane mates, Alice retreats back to childhood memories, including her time at a Japanese American internment camp. Simultaneously, Alice gets a visit from her estranged daughter, whose attempt at reconciliation is no match for her mom's declining memory.
7. Sunshine Nails by Mai Nguyen
Vietnamese refugees Debbie and Phil Tran are proud owners of one of Toronto's most sought-after nail salons — a title they're at risk of losing thanks to a fancy new nail salon chain that just opened up crossed the street. Between a rent increase and their rival's ultra-glam offerings, how are the Trans supposed to compete? An emergency family meeting launches the Trans down a path of sabotage.
8. Mika in Real Life by Emiko Jean
A Good Morning America Book Club pick, Mika in Real Life is about a woman down in the dumps when she receives a phone call from the teenage daughter she placed for adoption years ago. Panicked (and eager to woo Penny), Mika creates a fictional life for herself — one in which she's successful, in love, and on top of the world. In her head, the plan is foolproof. However, Mika didn't account for a possible romp with Penny's adoptive widower father that'll threaten to put her new blossoming mother-daughter relationship on the line.
9. The Summer I Turned Pretty by Jenny Han
The young adult romance is the epitome of beach reads (it literally takes place in a quaint beach town) and explores the growing love triangle between Isabel "Belly" and her childhood best friends, Conrad and Jeremiah, who also happen to be brothers. And ICYMI, the TSITP books have been adapted into a TV series by Prime Video. Season two drops this summer!
10. Age of Vice by Deepti Kapoor
Set in contemporary India, Age of Vice opens with a fatal car crash in the wee hours of the morning that leaves five dead — none of whom were behind the wheel. In the middle of it all is the Wadia family, swimming in financial exuberance, corruption, and blood, who will stop at nothing to ensure the family name remains unscathed.
11. Vera Wong's Unsolicited Advice for Murderers by Jesse Q. Sutanto
An investigator in her own mind, Vera Wong swipes a piece of evidence from the crime scene in her Chinatown tea shop and gets to work solving an unnamed man's murder. It's only a matter of time before the dead man's killer comes back to seize the flash drive he left behind, so Vera has to get to sleuthing and fast. She may be a "little old lady," but she's out for vengeance.
12. The School For Good Mothers by Jessamine Chan
Frida Liu is a mother deemed "bad" and at risk of losing her daughter, per the government's standards of what a good mother should be. Throw in a philandering husband and a job unworthy of her Chinese immigrant parents' sacrifices, and Frida is barely getting by. Determined to win back her title of Harriet's mother, Fridge must prove that innocent mistakes or lapses in judgment aren't the hallmarks of one's parenting.
13. Tomorrow, Tomorrow, and Tomorrow by Gabrielle Zevin
A Scary Mommy Book Club pick, Tomorrow, Tomorrow, and Tomorrow follows best friends Sadie and Sam over 30 years as they navigate life's unforeseen challenges amid an unexpected road to fame and fortune. Little did they know that two kids who once bonded over their love for playing Nintendo under the fluorescent lights of a hospital would become two of the leading game designers in the world.
14. Holding Pattern by Jenny Xie
She's newly single, dropping out of grad school, and moving back in with her mom. Kathleen Cheng's life isn't exactly fabulous right now — and it's about to take a turn down dumpster fire avenue once her mom enlists her help to plan her wedding. That's right; Marissa Cheng, who was depressed and longing to move back to China the last time Kathleen saw her, is now head over heels in love. For Kathleen, forging ahead in life is a little tricky when you're stuck in a holding pattern.