Candace Cameron Bure Claims She Hasn't Had Fast Food In 20 Years & The Internet Called B.S.
The weird rant came out of nowhere.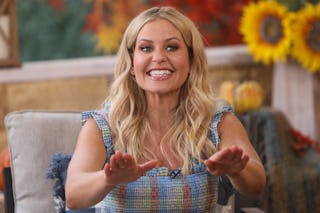 Paul Archuleta/Getty Images Entertainment/Getty Images
Actor and Full House alum Candace Cameron Bure claimed that she hasn't eaten any fast food (besides In-N-Out Burger) for over 20 years. Claiming that she hasn't had any fast food in two decades while also admitting to eating at one of California's most popular fast food restaurants is just as mind-boggling to me as it is to you, so let's move on.
Bure, seemingly out of nowhere, posted an Instagram story saying, "I haven't eaten fast food except for In N Out in 20 years."
"Some days, I wonder what a burger and fries is like from McDonald's or Burger King or Wendy's or any of those places I've never eaten at. Today is that day. Am I going to find out? No," she wrote.
Then she followed up with another Story and said, "And no, I've never had Taco Bell or anything similar. I don't regret it. You can't convince me otherwise."
Can someone please send her a Cheesy Gordita Crunch in the mail? I feel like that could change her mind real quick.
Listen, it's totally fine for someone to choose not to indulge in some McDonald's fries and a chocolate shake, but there is something a bit off putting about the way she went about sharing this little tidbit of information.
Bure may eat clean most of the time and claim that fast food doesn't touch her lips, she should have known that the internet was going to fact-check her claims.
A twitter user posted a now-deleted picture of Bure eating some fast food from Chick-fil-A in 2012.
"We love chikin!" the caption said.
Of all the fast food joints for Bure to get busted eating at, Chick-fil-A makes just so much sense considering Bure and Chick-fil-A both have strong Christian values and controversial opinions.
The fast food chain closes every Sunday in accordance with founder Truett Cathy's religious beliefs and has been accused of supporting anti-LGBT causes. In 2019, they ended donations to anti-LGBTQ charities and organizations after years of backlash.
Bure has had her own slew of backlashes, especially after an interview with the Wall Street Journal where she proudly said that her new TV network, Great American Family (GAC), would not feature gay couples in lead roles, unlike the Hallmark Channel, where she previously starred and eventually cut ties with.
Candace explained that she wanted "tell stories that have more meaning" now that she is working with at GAC.
In April 2022, Candace revealed she was moving to the network, because it was a better fit to her "brand."
"I am constantly looking for ways that I can inspire people to live life with purpose. GAC fits my brand perfectly; we share a vision of creating compelling wholesome content for an audience who wants to watch programming for and with the whole family," she wrote.
Reps for Bure told Scary Mommy, "This story is completely not true. Candace took her son to eat at the restaurant. Candace does not eat fast food and only ordered an iced tea, which she is holding in the photo."