Casey Wilson Welcomes Third Child In 'Profound' Surrogacy Experience
The actor's daughter, Frances, was born via surrogate and joins big brothers Max and Henry.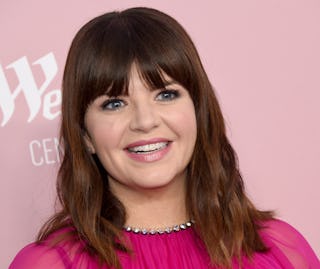 Gregg DeGuire/FilmMagic/Getty Images
Casey Wilson is "immeasurably grateful" after she welcomed her third child, daughter Frances "Frankie" Rose, via surrogate this month.
The Happy Endings star shared the news on Instagram Thursday, posting photos of her baby girl with big brothers Max, 7, and Henry, 5.
"This is the dawning of the Age Of Aquarius! Our angel Frances 'Frankie' Rose Caspe is here! Delivered by another angel, our surrogate and friend, Stacy whom we love and are immeasurably grateful for," Wilson, 42, wrote of herself and husband David Caspe.
"Surrogacy is women supporting women in its highest form and it has been a profound experience. Uplifting and inspiring," she continued. "Frankie Rose is more than I could have ever imagined. She completes the sacred circle of mother and daughter I have longed for. I'm on the other side this time — wishing Grandma Kathy could see her and hoping (knowing) she can. Her arrival is healing and joyful. We move forth! Hand in hand. With women ushering us in and onward."
Wilson has spoken about how the loss of her mother, Kathy, a women's rights activist, shaped the way she approaches parenthood. She was just 25 when her mom died unexpectedly of a heart attack in 2005. (Wilson and her family now maintain the Kathy Wilson Foundation, which focuses on children with disabilities.)
"It was so shocking, I really made no note of what year and what years followed [her death]. It's such a weird time, I almost rejected committing it to memory," Wilson said during an appearance on the podcast The Longest Shortest Time in 2016. "There is something about a mother that is your cheerleader and, I think, when my mom died I felt so acutely like, 'My personal cheerleader on the sidelines of my life is gone.'"
Wilson said it's tough to go through life without her mom, especially now that she has kids of her own. She constantly asks herself, "What would Kathy do?" — and tries her best to feel confident as a parent without having the support of a mother-figure herself.
The actor's whole approach to motherhood is just being her unique self, just as her mom would want her to be.
"She used to do this thing she coined 'girlfriends,' which meant she'd pick myself and my girlfriends up from school, we'd roll down the windows, and we'd listen to the Mermaids soundtrack at full blast," Wilson said of Kathy. "So all my friends would sing and we'd go to 7-Eleven and she'd be like, 'Get anything!' And it was so freeing. My mom would always roll up in the craziest outfits. Like, she would rock a purple Speedo one-piece bathing suit with a fur coat and Birkenstocks, just like, 'Here I aaamm!'"
Congratulations to Casey and her family on the birth of her daughter.