Cheyenne Jackson's 6-Year-Old Twins Came Out As Straight To Him
The actor shared how he and his husband reacted when their twins Willow and Ethan told them that they were "not gay."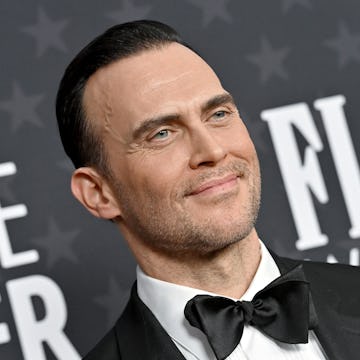 Axelle/Bauer-Griffin/FilmMagic/Getty Images
Cheyenne Jackson just had a milestone talk with his six-year-old twins Willow and Ethan. The two professed to the American Horror Story actor and his husband Justin Landau that they are, in fact, "not gay."
"I wanted to share something recently that happened," Jackson started in a video shared to Instagram. "A big night at our family, a big night for any parent," he continued with a serious tone.
"Our kids came out. As straight. We were eating dinner and out of the blue, Willow says, 'I don't think I'm gay.'"
Like any supportive parent, Jackson explained to his twins that he and their dad would love them no matter who they are attracted to.
"Okay, great, we love you no matter what," he responded to Willow before Ethan chimed in.
"Then, Ethan, without missing a beat and without looking up from his food goes, 'Yeah, I'm not gay either... but I want to go to the parade.""
Oh Ethan. We all want to go to the parade!
As silly and light-hearted as the video is, Jackson's move of validating his children's feelings had fans cheering.
"Moral of this story: "we love you no matter what". Words every kid needs to hear all the time! Great work, dads! ❤️❤️" replied a fan of the conversation.
"Omg. I love you all. ❤️" Ricki Lake commented.
Rosie O'Donnell, who is also a gay parent, replied, "Love this ❤️❤️❤️"
The fact that Jackson didn't simply assume his children are cis and straight (and validated their feelings once they confirmed they were "not gay") also had people praising the dads.
"When my daughter was about 12 she came out as straight (her dad and I are both straight). She said she thought everyone should come out and no one should automatically assume people are straight. 💙," wrote another.
That is one wise 12 year old.
Given that Willow and Ethan are only six years old, chances are they might express something different as they age —but no matter their sexuality or gender, both kids clearly have parents who will love them no matter who they love, and who are modeling a lot of great behavior for their kiddos.