Chrissy Teigen Speaks Openly About Her Anxiety In New Interview
by Sarah Bregel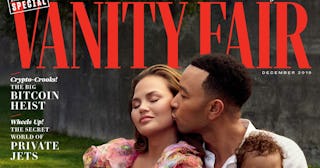 Vanity Fair
Chrissy Teigen gets real about living with anxiety in the public eye
Chrissy Teigen is always upfront and transparent. It's why she has such a massive Twitter following and probably why she pisses off the president so effortlessly. She's always been willing to share her struggles but in a new Vanity Fair piece, the star opens up in a huge way about handling fame and real life as a person who lives with an anxiety disorder. While we're used to honesty from Chrissy, it's pretty moving.
While the couple is open on social media (especially Chrissy — that's kind of her brand), hearing an in-depth discussion about Chrissy's anxiety and how it challenges her is really powerful and likely to grab people's attention because it's so real. In this piece, she talks about how those feelings impact her life and her thought patterns. "I'll get a new dog and be like, This dog is going to die in my lifetime," she says. "The second we land somewhere on vacation I think, Oh, it's going to be so sad to pack. I've never said, 'Oh, I'm so excited for this job.' I'm more, One day it's just going to end."
It's hella relatable to anyone who suffers from anxiety and it's sure to help a lot of people feel more open about their struggles, too. Especially because we often look at celebrities and think life must be so easy for them. It's a nice reminder that even our favorite influential people have issues of their own, we just don't often hear about them in such a bold and upfront kind of way.
Another way that Chrissy's anxiety impacts her is how she remembers things, or doesn't remember them. She says she can't hold on to memories of trauma or triumph. "Her wedding is a blur, as is the period during high school when her mother disappeared from her life," the article reads. It's a sad but poignant truth about the power anxiety can have on a person's life. It can genuinely change your perspective or even how you remember certain things.
Chrissy says the fact that she didn't have her mom around for awhile only comes up for her when John talks about his childhood. She says no one talked about why her dad took a long time bringing her mom back home, and Chrissy never wanted to hurt anyone's feelings by asking questions. "She just wants to hold my hand again and drag me around everywhere," says Pepper, wiping tears. "Even now, you know, she's like 'Mom, let's go to Rodeo Drive!'"
What's admirable about Chrissy, though, is how she chooses to move forward with it. "I think I'm such an open person now because everyone in my family has always been so hush-hush," she says. "I love attention and affection. I want to be direct with everyone." What makes this power couple even more powerful, though, is how John supports Chrissy in her struggles, which she recently shared in a tweet, bragging on her husband just a bit.
As anyone who has coped with these issues knows, having a supportive partner is crucial. Sometimes all it takes to feel a little bit better is having someone there who may not perfectly understand what you're going through, but listens to you, believes what you're feeling, and takes it seriously. John seems to do that for Chrissy perfectly.
She's definitely right about that — she's endlessly open about her struggles. "Here's my Lexapro," she willingly showed the reporter while in her bedroom looking at her nightstand. It's undeniably helpful to anyone who has the same issues as Chrissy — which so many people do. Maybe it shouldn't be, but her attitude is a bit revolutionary, especially when it comes to Hollywood It-Couples.
Chrissy Teigen doesn't beat around the bush. She puts it all out there for people to see, or judge, or whatever. But mostly, she puts it out there because she just wants to be herself, and honestly, she's doing an amazing job just being the real Chrissy.