Christina Applegate Brought Her 12-Year-Old Daughter Sadie As Her SAG Awards Date
The actor also carried a cane that had "FU MS" written on the bottom of it.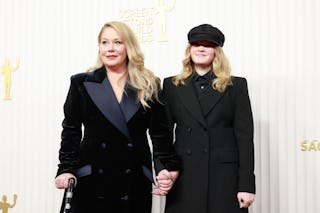 Emma McIntyre/FilmMagic/Getty Images
Christina Applegate brought her 12-year-old daughter, Sadie Grace LeNoble, to Sunday night's 2023 Screen Actors Guild (SAG) Awards, and the two were looking more alike than ever as they held hands in twinning outfits.
Both were dressed in head-to-toe black and both wore oversized double-breasted tuxedo-style jackets. Both also wore chunky Doc Marten-style black boots to complete their looks. Applegate's jacketed look included silky lapels and a floor-length train while LeNoble's was topped off with a smart page boy hat and black trousers.
Both wore their hair down in simple loose blond waves, and they couldn't have looked more alike.
Christina shares her daughter with Dutch musician Martyn LeNoble, whom she began dating in 2008 and married in 2013.
Applegate was nominated for Outstanding Performance by a Female Actor in a Comedy Series for her starring role in Dead to Me, though she lost her bid to Jean Smart for her performance in Hacks.
Applegate, who shared her multiple sclerosis (MS) diagnosis in August 2021, walked with the assistance of a cane at the event. The black cane was covered in stickers — one of which read "FU MS" and another of which read "SADIE."
"It's my last awards show as an actor probably, so it's kind of a big deal," she told The Los Angeles Times ahead of the event.
Since opening up about her MS diagnosis, Applegate has been extremely candid about her experience with the chronic illness and how it's affected her acting career.
"Being diagnosed with MS last year and what happened to my body, to my mind, to my spirit, to my everything, of course I didn't want to be around anyone or talk about it, but I had to go to work," she said an interview with Kelly Clarkson in November. "I was not forced to go to work, but I made sure that we finished the show."
"It was really incredibly difficult, and then I went to sleep for a few months," she went on. "And then all of a sudden now I had to come out again and be this person. And people had seen me as this other person for the last almost 40 years, and I'm different now, and it's incredibly hard. I'm going to do my best to get through it, I suppose."
Still, she held tight to her sense of humor and expressed with candor what it's like to become disabled in the public eye.
When she got her Hollywood Walk of Fame star, she quipped, "Oh, by the way, I have a disease. Did you not notice?" and wore FU MS painted on her fingernails.
Through it all, though, Sadie has been at her side. At the same speech in Hollywood, Applegate gushed: "The most important person in this world is my daughter. You are so much more, so much more than even you know. You are so beautiful and kind and loving and smart and interesting, and I am blessed every day that I get to wake up and take you to your school. You are my everything. Thank you for standing beside me through all of this."
No wonder she got a free ticket to the SAG Awards!