Christopher Meloni's Daughter Dragged Him Out Clubbing
The whole family went out to celebrate his wife's birthday.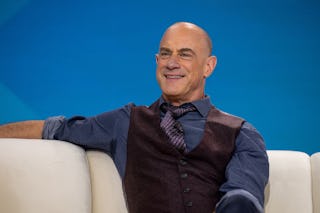 NBC/NBCUniversal/Getty Images
While some might not be able to imagine going out to the clubs with their parents, for Christopher Meloni's kids it sounds like a great night out.
During a Jan. 30 appearance on Late Night With Seth Meyers, Meloni, 61, revealed he and his wife, Sherman Williams, went clubbing with their kids, Sophia, 21, and Dante, 19, in honor of Williams' 63rd birthday.
The Law & Order: SVU alum revealed to Meyers that the family night out wasn't even his idea but that his daughter was the brains behind the idea.
"My daughter was the instigator," he told Meyers. "She's got her finger on the pulse, and I pretend that I have the same finger."
Meloni went on to explain that he really had no clue how to act in the beginning of his club adventure. So much so that when he entered the club, the woman at the door bowed down to him in a "we're not worthy" type way in which he reciprocated with an accepting bow.
"And I entered. And I partied. And I danced," he told Meyers as the audience cheered.
The actor gave fans a glimpse into the family's night out on Instagram. On January 22, he posted a slideshow of photos and video from his wife's birthday celebration including a close-up of his wife's high heels, his daughter singing and dancing in the crowd, and a sweet embrace between Meloni and Williams in front of her birthday cake.
"So ... this happened," he captioned the post dedicated to his wife. "My gurl. Ageless. Timeless. Steppin' out with the young-uns to show em how it's done."
Meloni's daughter Sophia also posted a series of photos from her family's celebration with a poetic caption that summed up the evening.
"There is no better way to understand why it is the way that it is than by accepting that it all ends, again, on the club floor in the irreconcilable place between Brilliant Mistake and impeccably cast Fever Dream with Dante ablaze with the boogie in Mom's silk blouse," she wrote on Instagram. "We wear a cool comfort with the absurd as our family crest."
"The lights come up and we spin out. The disco blares as a rallying cry to make Mom's birthday a national holiday overtakes the crowd. Cozied up in my new bed on the bathroom floor, cheek to toilet bowl, I pray the rosary that when puberty gives me grace and tequila tolerance, I'll grow up to be just like Mom," she concluded.
With prose like that dedicated to her mom, seems like Meloni and Williams are definitely parent goals that are also cool enough to take the club!