Whoa! JJ's Talking Voice Gets Its Official Debut In The New Netflix Original Spinoff, CoComelon Lane
New adventures. Same sweet friends.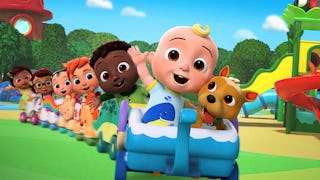 Moonbug Entertainment
Hot on the heels of CoComelon's incredible new bilingual series, Nina's Familia, the iconic children's series is dropping another super-cool spinoff. Enter CoComelon Lane, the first Netflix Original for the franchise, where fans of JJ, Cody, Nina, and the gang will be thrilled to finally hear JJ speak — instead of just singing.
Since the inception of CoComelon in 2006, spoken dialogue has basically only been heard occasionally and by grown-ups. CoComelon has done most of its teaching through songs, signs, and animation. While the franchise's oh-so-adorable (and catchy) music videos have often featured simple storylines, CoComelon Lane marks the first episodes where JJ talks directly to his friends — onscreen and at home — and leads everyone through episodes that contain songs, but aren't just music. In other words, CoComelon Lane functions more as an actual show than just music videos.
Want an example of what to expect from CoComelon Lane ahead of its premiere on Nov. 17? Scary Mommy has an exclusive clip featuring JJ's talking voice, a peek at the new "Pretend Paint" imagination sequence, and another catchy CoComelon song.
Who knew JJ was such a talented artist? It's a great reminder that, with a big enough imagination, you can dream up anything.
The first season of CoComelon Lane is locked and loaded with nine 20-ish minute episodes. Each episode will still follow the CoComelon mission of teaching and walking kids through major milestones. From first haircuts to first swim lessons, viewers will watch JJ and pals navigate expectations and emotions that go along with growing up and growing into life.
In each episode of CoComelon Lane, JJ and friends will encounter a new, big moment and go through the big feelings attached to that moment. Each episode will feature the gang from Melon Patch Academy imagining the scene while JJ "paints" the picture and they all interact with it. Each episode will also feature a helpful adult to guide them through the big moment and will show the friends learning how to deal with the big moment and feelings. And, in true classic CoComelon form, each episode will contain a Cocomelon classic, a nursery rhyme, or a brand new song.
The first nine episodes feature about three songs and experiences and focus specifically on similar emotions in each episode. For instance, Episode 101 will show JJ washing a fire truck, Nina riding the bus, and Cody making a cake for his mommy. During that episode, the friends will talk about feeling overwhelmed, scared, and afraid of "messing up." Naturally, a trusted grown-up will always show up to guide them through the physical and emotional experiences.
"We recognize the whirlwind of emotions that often accompany these big milestones and new experiences for preschoolers — I see them in my own kids," shared Meghan Sheridan, senior creative executive at Moonbug Entertainment. "We empower JJ and his friends to explore those moments. If they trip and fall, or something goes the way it often does in real life, there's always someone there who can catch them."
Already know your preschooler will lose their minds for the super-special new series? CoComelon Lane is launching a line of toys tied to the series exclusively through Walmart. This includes character toys and their themed wagons that hook together and roll (JJ & Friends Free Wheelin Wagons, $7.99). You can also find a playground set with lights, sounds, and some of the Melon Patch Academy friends (Climb and Rhyme Playground, $49.99).
CoComelon Lane premieres on Nov. 17 on Netflix. Now, if you'll excuse me, someone wants to watch and sing "Bicycle Built For Two" AGAIN.