CoComelon Launches Its First Bilingual Series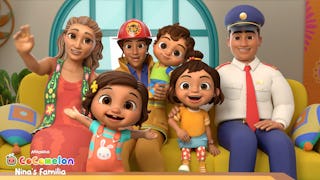 Just when you thought you couldn't love CoComelon any more, they've gone and done it again. After their super helpful and adorable pet care series, they're introducing the intricacies of another CoComelon family. Starting Sept. 29, preschoolers (and their families) will get a full friend introduction to Nina's Mexican-American family. Even more exciting for bilingual families, Nina's very special episodes will be entirely in Spanish. The series will feature the same cheery, easy-to-learn 3-minute songs and nursery rhymes our CoComelon kids already love — this time focusing on a family and a language that, until now, hasn't gotten much devotion.
CoComelon isn't diving bilingual entertainment lightly. The Nina's Familia series was helmed by creative lead Anthony Falcón, who used his own Mexican-American heritage to give Nina's family life and proper representation. In a press release, CoComelon shared that their goal behind introducing Nina's Familia was to give Latino kids a chance to see themselves and their families reflected back to them from their televisions. As a bonus, it will expose non-Latino kids to families that may not look like theirs.
Spanish language nursery rhymes featured in Nina's Familia include:
"¡Dale, Dale, Dale!" (Often referred to as "The Pinata Song")
"Pin Pon es un Muñeco"
"Chuchuwa"
"Estrellita Dónde Estás" (Spanish version of "Twinkle Twinkle Little Star")
"La Araña Pequeñita" (Spanish version of "Itsy Bitsy Spider")
The series will also feature two culturally significant moments, including Día de los Muertos and a Christmas episode titled "Noche Buena Christmas."
Along with highlighting culturally appropriate songs and celebrations, Nina will come with an updated look. Her hair will be more wavy, and her overalls will feature traditional "huipil" embroidery.
"We wanted to ensure that Nina is instantly recognizable as a Latine character," shared Falcon. "In collaboration with our cultural consultant and the Latine community within Moonbug, we took care to give Nina and her family an authentic update to best represent a Mexican-American animated character."
One of the coolest parts of Nina's Familia will be the addition of her Abuelita, her grandmother. Viewers have met JJ's grandparents in previous episodes, but they are clearly not part of his nuclear family. For Mexican-American families, it's not uncommon for multiple generations to live together. That's precisely what is shown in the Nina's Familia series, adding to the cultural awareness and attempts at accuracy and representation that CoComelon took.
"Like many Mexican-Americans, Nina is part of a loving multi-generational family that all live in the same household together. Her Abuelita is there to help raise the grandkids and encourage them to learn more about their rich culture and language," Falcon explained in a press release. "Nina's home will always be bustling with a lot of laughter, love, Latine traditions, Spanish language, Mexican cooking, and, of course, familia. The goal with Nina's Familia is for Latine kids to see themselves represented on screen every day and to share Nina's family's culture with the world."
Part of what brings Nina's Familia to life is the details Falcon and his team put into the "lore" or story behind Nina's family, the Reyes family. Aside from living with her Abuelita, a first-generation Mexican-American, Nina Isabel also lives with her two siblings, Mateo and Lucia. Her parents have unique backstories, too. Her dad, Carlos, is a commercial pilot. And her mom, Daniela, is a firefighter. (Who doesn't love the additional breakage of a gender role?)
"With Daniela, she grew up learning Spanish as her first language and, thanks to Abuelita, is deeply rooted in her Mexican heritage. She considers her family her alma (her life and soul). She became a firefighter because it matched her desire to give back and help the community and her instinct to always jump into action," Falcon tells Scary Mommy. "And Abuelita is such a special addition to this multi-generational house. She's created such a special bond with the kids. Once they discovered all the stories Valeria had to tell, she decided it was time to show them culture, history, and heritage through fun, music, dancing, cooking, and celebrating holidays. She teaches them where they come from is something to embrace and something that makes them unique."
While the family history and all the tiny little details the team put into creating Nina's Familia are amazing, Falcon wants everyone to remember who the real star is for viewers.
"And there's so much more to tell, but one last bit on our star, Nina. She's a tiny leader in her family. She has a passion for helping others like her mom, and one day, she hopes to grow up and explore the world like her dad. She loves hard and always encourages her friends never to give up."
Nina's Familia premieres on Friday, Sept. 29 on CoComelon. Come meet the first bilingual family!