"The Parent Test" Contestants Admit To Spanking Their Kids
In an exclusive teaser for Thursday's episode, the parents discuss the controversial topic of spanking.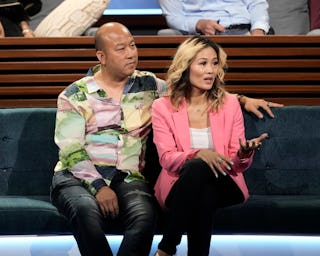 James Clark/Disney General Entertainment Content/Getty Images
The unlikely fan-favorite television series, The Parent Test, is back with a new episode Thursday, and this week's topic causes a heated conversation. In an exclusive sneak peek, we see that some of the parents admit to spanking their children.
"In acknowledging everyone's faith, in some faiths, it may be a doctrine, that is you spare the rod, the child is spoiled," Dr. Adolph Brown, the show's co-host, began an insightful discussion.
Contestant Yan Dekel, who practices 'routine style' parenting with his partner Alex Maghen, was the first to share his experience, saying, "I was raised very strict, and I was spanked as a kid, and, I'm going to tell you, it feels humiliating. Then when I did it [as a parent], it came back full circle, and I felt this was not for the kid. This was for me. Like I put my anger now impulsively on my kid, and I think this will change something."
Others chimed in quickly with opposing views, with one parent sharing, "Research, education-wise, [says] you're not supposed to spank out of anger," insinuating that spanking can be effective if done properly.
OY VEY. See the clip below.
Brown then interjected in the heated conversation to ask a bold question: "By a show of hands, how many parents in this room spank their children?" The clip reveals that at least five out of the twelve families in the experiment openly admit to spanking their children.
Inspired by a popular television format in Australia, The Parent Test is designed to challenge various parenting styles. "From helicopter to child-led parents, 12 families are put under the microscope in the ultimate parenting stress test and will share learnings about emotional hot-button topics that compare the multiple styles of parenting," ABC said in a statement to Scary Mommy. "The families are put through various situations to foster conversations about how each unit operates."
Known as "Doc Brown," the renowned psychologist and father of eight leads all discussions alongside his co-host, Ali Wentworth, who parents two teenagers herself.
Contestants have had to face challenges such as giving their children a "yes day" and encouraging them to jump off a high diving board and try rock climbing.
Spanking is not the only hot topic covered, however. Parents have also had to face the realities of "stranger danger," where parents were asked to test their children by leaving the house and sending an actor to knock on the door to see if they were willing to open it.
You can watch The Parent Test live on ABC on Thursdays at 9 p.m. EST or stream on Hulu the day after the episode's premiere.